Mike Haertl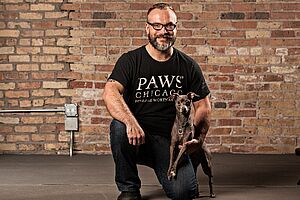 CPDT-KA* Obedience Instructor
A Little Bit About Mike
Mike has always had a passion for rescued animals. This was instilled early on by his grandfather who routinely brought stray dogs home. Having grown up with this influence. he got his first dog at 18 years old.
Having always wanted to work for a shelter, he eventually found his way to Wisconsin Humane Society where he worked for 10 years. There he wore many hats including doing safety and behavior assessments on surrendered dogs, behavior training and adoption counseling. It is here that he came to understand the importance of using positive reinforcement in training dogs. The bonds that are created through the training process help to enrich the life of both the human and the dog.
After moving to Chicago, he quickly found PAWS Chicago and started volunteering as an adoption counselor and soon found his way into the dog training program. After becoming a certified dog trainer, he took on training classes.
"I approach my classes as a fun and educational space for both people and dogs to learn in. It's important that the owner knows how to teach the skills that they want their dogs to know as it will certainly strengthen the bond between them. I hope my students leave my classes feeling like confident new dog trainers themselves, ready to continue working with their dog long after the session ends."
Mike currently shares his home with two rescued dogs. Kinzie, a Dachshund mix who is a PAWS Alumni and Brody, a Chihuahua mix. He has enjoyed having Kinzie help him teach his virtual classes while Brody is settling in.
*Certified Professional Dog Trainer—Knowledge Assessed