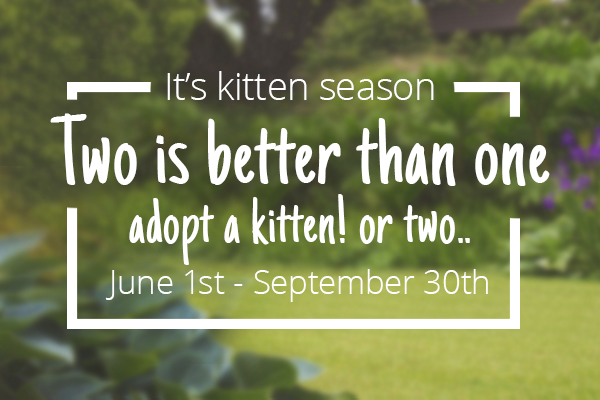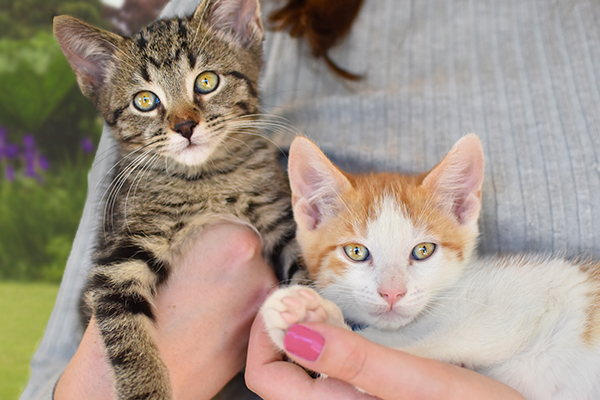 You know what they say: two is better than one. We're convinced this is never more true than when it comes to two times the purrs and toe beans of a tiny kitten! Luckily, adopting two kittens or young cats instead of one is just as healthy for them as it is cute for you. Not only will they have a built-in playmate to keep them out of trouble, they'll have a happier, healthier development. Plus, you'll be saving two lives and receiving twice as much love.
Kitten season is a real-life phenomenon that occurs every year from the start of warmer spring temperatures to the beginning of fall, bringing an influx of mother cats and their litters into shelters. The number of cute kittens can quickly climb as female cats can become pregnant every 62 days and usually give birth to 4-5 kittens per litter. At the beginning of summer, we set out to find homes for 350 kittens by September 30. Thanks to the PAWS community, we're almost there with time to spare, and we're raising our goal to 400! Consider adopting a couple of kittens and helping us meet this incredibly cute milestone.
Below are a few resources for welcoming home a pair of new feline friends and a thermometer to show you how close we are to reaching our goal. After you're all caught up on our resources, head over to our adoptable animals page to see the kittens looking for homes!