PAWS Chicago Adoption Centers
Pippen Fasseas Adoption Center
1997 N. Clybourn Ave. – Map it
Chicago, IL 60614
Telephone: 773-935-PAWS
Fax: 773-549-5760
Glenn L. Felner North Shore Adoption Center
1616 Deerfield Road – Map it
Highland Park, IL 60035
Telephone: 224-707-1190

Englewood Outreach Center
Located in the lower level of St. Stephen's Lutheran Church.
Offers programs and resources for neighborhood pet owners. Pet owners in Englewood and Back of the Yards may call for more information.
Telephone: 773-217-9113
Volunteer Inquiries
volunteers@pawschicago.org
Alumni Updates
alumni@pawschicago.org
Hours
Pippen Fasseas Adoption Center
Monday Noon-7pm
Tuesday Closed
Wednesday-Friday Noon-7pm
Saturday-Sunday 11am-5pm
Glenn L. Felner North Shore Adoption Center
Open from 12 p.m. - 3 p.m. on
October 16th, November 20th, and December 18th
for the North Shore New Friend Adoption Events.
Englewood Outreach Center
Hours vary.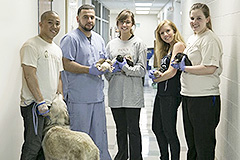 Lurie Clinic
Spay/Neuter Surgeries
3516 W. 26th Street – Map it
Chicago, IL 60623
Telephone: (773) 521-SPAY (7729)
Fax: (773) 521-1082
PAWS Chicago Development Office
General Donation Questions
1933 N Marcey St.
Chicago, IL 60614
773-475-4242
info@pawschicago.org
Advertising or Sponsorship
1933 N Marcey St.
Chicago, IL 60614
advertise@pawschicago.org
Third Party Event Partnerships / Fundraisers to Support PAWS Chicago
1997 N. Clybourn Ave
Chicago, IL 60614
cyo@pawschicago.org
Signature Events (Animal Magnetism, Beach Party, Fur Ball)
Signature Events Team
Telephone: 773-475-3307
signatureevents@pawschicago.org
Athletic Events (PAWS 5K, TEAM PAWS Chicago)
Carrie Cihasky
Telephone: 773-475-3315
ccihasky@pawschicago.org
Media
For media inquiries, please contact the PAWS Chicago Media and Communications Department at media@pawschicago.org or 773-475-3317. In order for us to best assist you, please include your media outlet, nature of your query, contact information and deadline. We appreciate your interest and support of PAWS Chicago's work and will respond to your inquiry within one business day.
---
PAWS Chicago Intake and Admissions Center
3516 W. 26th St.
Chicago, IL 60623
Telephone: (773) 475-9462
Fax: (773) 542-0016

Intake Inquiries
intake@pawschicago.org
---
PAWS Chicago Founder and Chair
Paula Fasseas
pfasseas@pawschicago.org
* All employment verification checks should be emailed to humanresources@pawschicago.org