Marta Adamek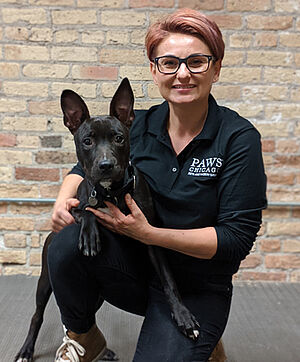 Canine Behavior Trainer
CPDT-KA**
A Little Bit About Marta
In the words of Orhan Pamuk, "Dogs do speak, but only to those who know how to listen." Marta is attuned to the way dogs communicate and she is here to help you learn how to listen, too.
Since 2019, Marta has been a canine behavior trainer and instructor at PAWS Chicago, where she helps dogs live their best lives. She works with shelter dogs by evaluating, training, socializing, and modifying their behavior to help them get adopted by their families. Marta also leads puppy and adult manners classes and supports foster families.
Marta noticed that dog owners struggle with understanding their dog's body language and behavior. She is committed to teaching them how to recognize their dog's stress signals, comfort levels, and their needs based on their breed. She takes the time to deeply understand owners' individual needs based on their personal situations and creates tailored plans with evidence-based techniques that are as realistic as they are effective.
Marta has spent 11 years training dogs and has mastered working with fearful dogs with patience and respect. She is a certified professional dog trainer (CPDT-KA), a supporting member of IAABC, and certified in pet CPR and First Aid by Pet Tech.
Marta's love for dogs started when she convinced her family to adopt her first dog, Bary, when she was just six years old. Since then, she has welcomed five dogs into her home with open arms. Marta has also fostered seven dogs since joining the PAWS Chicago team and is looking forward to fostering many more in the future.

Marta's interest in dog training began in 2006 when she became determined to ease her rescue American Staffordshire Terrier's fears and anxiety. Her love for Taya and a curious mind led her to dive into research and take her first dog training course. The improvement that Marta saw in Taya made her feel so fulfilled that she knew she wanted to dedicate her career to helping as many dogs as possible.
When Marta's not working at PAWS Chicago, she can be found reading up on dogs' behavior, running, hiking, or traveling. She is also known to love watching goofy animal videos, preferably while enjoying a slice of cheesecake.
** Certified Professional Dog Trainer - Knowledge Assessed
Marta is pictured with her namesake at PAWS, also named Marta!