The Beck Family and the Launch of the GusMobile Spay Neuter Van
by Alexis Fasseas | Apr 30, 2011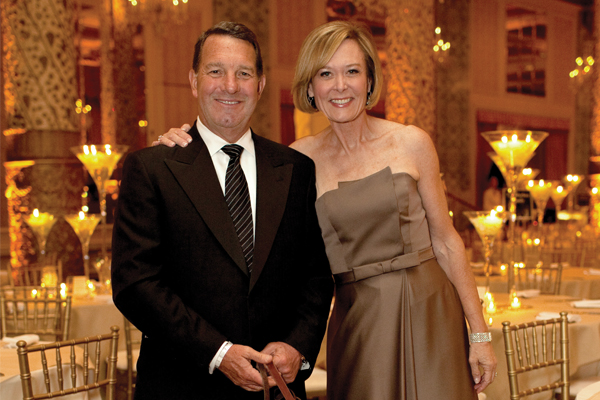 Friends of PAWS Chicago know the Beck family well.
They gave a major gift to PAWS Chicago's Adoption Center capital campaign, naming the Philip & Janice Beck Exhibit Rooms, where thousands of people each month learn about the issues facing homeless pets and how PAWS is building a No Kill city. Janice also serves on PAWS Chicago's Board of Directors.
Now, the Beck name is going on the road with the launch of the GusMobile, PAWS Chicago's mobile spay/neuter van, named after the adorable Golden Retriever the Becks adopted from PAWS Chicago in 2008 during the Iowa floods rescue mission. Found swimming in the floodwaters by rescue workers, Gus was brought to Chicago by PAWS volunteers who responded to the crisis.
"Gus was found in Cedar Rapids, Iowa during the flooding a few years ago," said Phil. "At first he was a little standoffish, but he soon became completely integrated into our family and, in some ways, is the most affectionate of our three dogs." Janice agrees with that sentiment. "Gus has become a huge part of our lives," she said. "He took his time settling into the Beck family after the trauma he experienced from the flooding in Cedar Rapids, but has become quite the water retriever, loving to go swimming at every opportunity. Whenever we walk along the river in Colorado he makes a beeline to go in!"
The GusMobile is a state-of-the-art spay/neuter van that will bring spay/neuter, vaccinations and humane education to Chicago neighborhoods most in need. This mobile solution will directly attack the source of pet overpopulation by establishing a presence in the low-income communities where the majority of stray and unwanted pets originate.
The Becks are no strangers to transformation. In 1993, Phil and 16 other attorneys from Chicago's prestigious Kirkland & Ellis law firm left to form Bartlit Beck, a boutique litigation firm, ushering in an innovative new approach to an otherwise very status quo legal profession. Rather than operate on the generic hourly billing structure, Bartlit Beck aligns their interests with their clients, structuring in an entirely new fixed fee compensation system that provides clients with predictability and shares the risk and the reward. Phil's list of high profile cases includes successfully representing George W. Bush in his 2000 election trial in Florida and Merck in Vioxx trials, as well as serving as special trial counsel to the United States Department of Justice in the Microsoft antitrust litigation.
Inspiration
The Becks are not bashful of their love for their canine companions. "Caring for dogs has always given me great pleasure," said Phil. "They are the world's greatest machines for giving and responding to affection." Janice expresses gratitude for her four-legged family. "They keep me company and never complain when Phil travels," she said. "That look of love makes me happy to be alive."
Though dogs have played a significant role in their lives, their first involvement with animal welfare came in 2007, when Janice met PAWS Chicago Board member Angie DeMars at her pet store, Noah's Ark, in Winnetka. After touring PAWS Chicago's Adoption Center, Janice and Phil were inspired to get involved. "We wanted to be part of a campaign that would impact so many lives, both human and animal, in a way that would educate the public and ultimately help animals," said Janice. Sponsoring the Exhibit Rooms fit well with the family's giving strategy that orients towards projects with a focus on education. "We've gotten tremendous enjoyment from our relationship with the people from PAWS," said Phil. "The volunteers have a generous and loving spirit. It has been inspiring for Janice and me."
Not long after making their first significant gift, Phil and Janice began discussing the idea of the GusMobile with PAWS Chicago founder Paula Fasseas. The Lurie Spay/Neuter Clinic in Little Village, which performs more than 17,000 surgeries each year, has had a great impact on the number of stray and unwanted pets, but there was a disadvantage to a stationary clinic.
"When we were discussing the project with PAWS, they showed us how the number of strays had dramatically declined over the years in areas accessible to the spay/neuter clinics. Yet the numbers remain high in communities without nearby clinics," said Phil. "My hope is that, by having a mobile clinic that can be brought to under-served communities, the number of strays will decline across the city."
Phil's partner, Fred Bartlit and his wife Jana, funded a similar spay/ neuter van in Denver for Dumb Friends League. Phil was moved by the results. "I was impressed with how much good such a project could do for under-served communities," he said.
Janice expanded on their family's giving motivation. "Phil's and my focus has always been towards facilitating education," she said. "The Gus Mobile is a very direct way to improve the quality of life for animals while educating our community about the vital importance of controlling pet overpopulation."
Results
The impact of targeted spay/neuter on the number of homeless pets coming into shelters, and ultimately killed, is clear. In these difficult economic times, when most animal control facilities around the country are seeing an increase in intake of stray and unwanted dogs and cats, Chicago's Animal Care & Control's intake has continually decreased. In fact, since the financial crisis began in 2008, Animal Care & Control intake has declined by 20%, from 21,836 to 17,518 last year.
On the map of Chicago (see lower right), in 2001, the first year of operation of the Lurie Spay/Neuter Clinic, there were 17 wards that received more than 600 stray calls. By 2010, that number fell to five wards. Those five wards are all concentrated in the far south and southwest side of Chicago, and that is where the GusMobile will be providing free and low-cost spay/ neuter services.
The Becks have great expectations for the GusMobile: "We want to see a reduction in homeless dogs and feral cats in the neighborhoods it serves," said Janice. "Also, we hope that the community will learn about how important spaying and neutering are to control the epidemic of homeless animals."
Since PAWS Chicago's founding, the number of homeless pets killed in the city has declined by 59%, from more than 42,571 in 1997 to 17,399 last year. "Those results are very heartwarming," said Phil. "I think PAWS does a wonderful job dealing with adoptions, especially of pets that are difficult to place. Equally important, but less visible, are the efforts of PAWS to reduce the number of homeless pets through its spay/ neuter programs." The GusMobile is another tool in PAWS Chicago's arsenal to build a No Kill Chicago.
"I am proud to be part of an organization that has such dedication and tenacity in helping to find adoption homes as well as reduce the pet overpopulation for animals in Chicago," said Janice. And Chicago's future homeless pets are so grateful to the Beck family, whose innovation and dedication will help lead to the day when dogs and cats will be given the guaranty of life that they deserve.