One Potato, Two Potato, Three
Mar 20, 2023
Ellie Feldmann recently fostered three adorable puppies from our Texas tornado crisis relief efforts—her 144–146th foster dogs.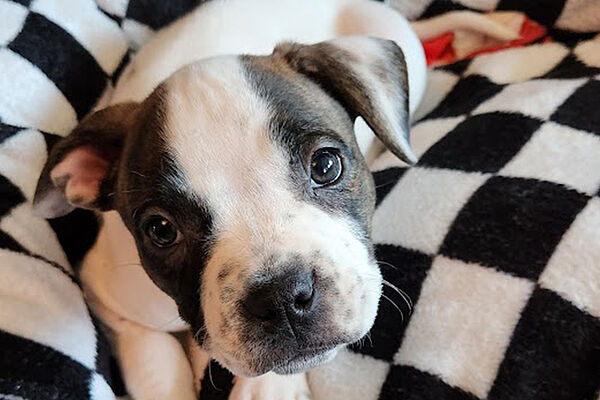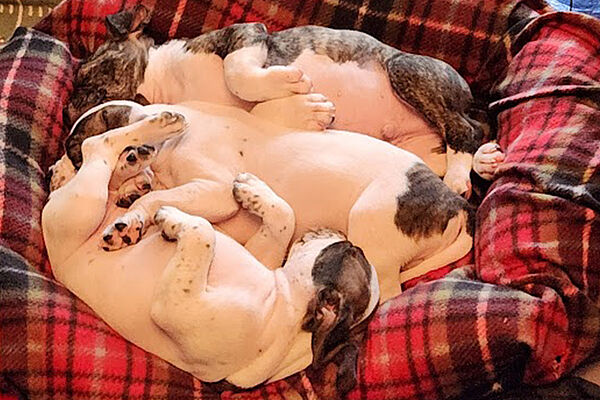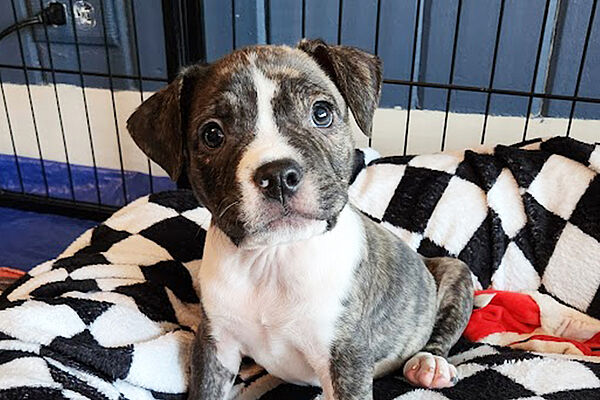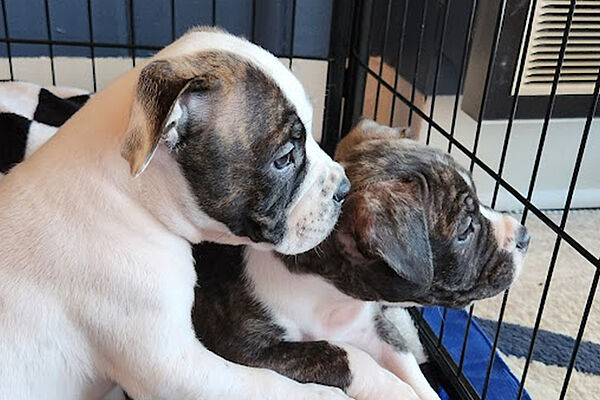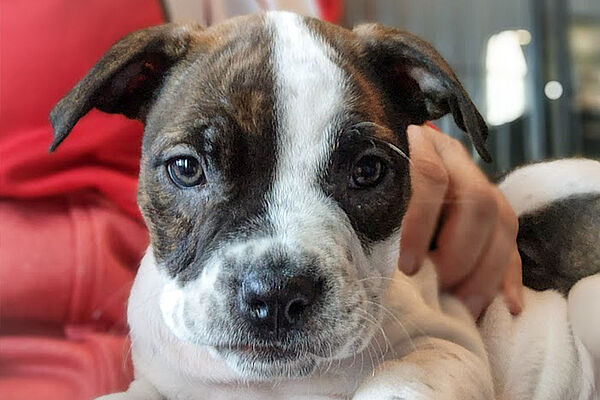 Ellie Feldmann has been fostering with PAWS Chicago for over 11 years and instantly knew she wanted to foster puppies Colby, Feta, and Mozzarella the moment she saw them at the Medical Center.
"I saw these puppies when they arrived and reached out right away asking if I could foster them. My family hadn't had puppies in a while, so we really wanted to foster some cute, snuggly puppies," said Ellie.
Colby, Feta, and Mozzarella are Ellie's 144–146th foster dogs, and by now, she's got her puppy routine down pat. It starts by setting up an x-pen (a foldable, adjustable play pen) and laying down a tarp, followed by blankets and dog beds.
"This gives the puppies space and play area but keeps their 'messes' contained. There was lots of laundry for sure. Throughout the day and evening, I would join them in the play pen for puppy play and snuggles."
Ellie also has three resident dogs who are kind and patient mentors for every pup she fosters.
"My favorite memory of these potatoes was their time outside running around, they were just the cutest things trying to keep up with the 'big dogs' (my biggest is 30 pounds)."
With puppies, Ellie is always especially excited to see each of their distinct personalities emerge.
"Colby was the world's biggest snuggler, and I would hold him for some of my Zoom meetings. Feta was my feisty one who had something to say. And Mozzarella was the curious one—he was always wondering what you were doing and would look at you until you just had to stop work and give him some love."
While fostering more than one puppy at a time might seem overwhelming, Ellie says it's actually easier.
"They play with each other, teach each other dog manners and sleep MUCH better at night. There was definitely a sense of controlled chaos, but it is always so much fun."
Colby, Feta and Mozzarella spent 10 days with Ellie before moving on to our Adoption Center. Today, all three are enjoying the love of permanent homes.
"Once they are gone, there is a period of calm in the house but also missing the cuteness and the cuddles. There are still tears on drop-off days but that is okay. You know you did something amazing for a dog in need to set them up for success with their forever home."
For anyone considering becoming a foster like Ellie, she has one big piece of advice.
"Don't keep your first foster. It is always so tempting because you cannot imagine giving them back after putting so much love into them. By letting the first one go, you learn how to say goodbye."
That's not to say you can't "foster fail." In fact, all three of Ellie's resident dogs are foster fails. But returning that first foster is an important experience.
"It is extremely difficult the first time you do it, but it does get easier, and you learn that each puppy/dog is different, and even though you love each and every one that comes into your house, you can't keep them all."
All in all, Ellie wouldn't have it any other way.
"I cannot imagine a day when I don't foster. It is so rewarding to see the dogs grow in your care. I love and remember every dog that comes into my home. I am blessed to be part of the PAWS family and to be part of many dogs' journeys," said Ellie.