Meet Morgan
Apr 13, 2021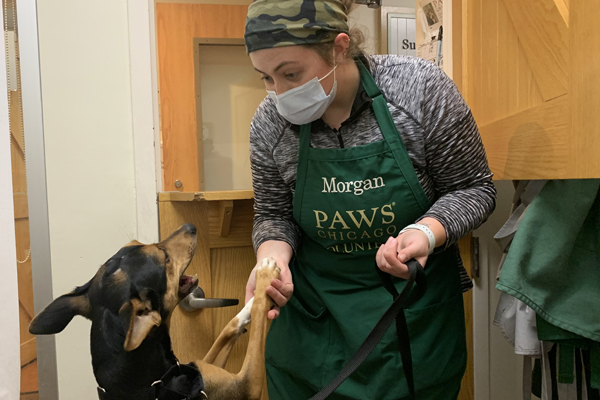 Morgan Peacock's been a volunteer at PAWS Chicago for less than a year but already, she's provided invaluable help in our life-saving mission! Since joining the Dog Town volunteer crew in October 2020, she's spent time helping dogs at the Lincoln Park Adoption Center feel safe and loved, has introduced people to their new furry family members through adoption appointments, and has lent a hand with the day-to-day operations of shelter life. Read a bit more about why Morgan volunteers at PAWS below.
How long have you been a volunteer at PAWS Chicago and what made you decide to volunteer?

I've been a volunteer since October 2020! I decided to volunteer because I really missed giving my time to a cause I believed in—COVID shutdowns affected my previous volunteer gig—and I was also missing being around animals after the recent passing of my own pets. I'd always admired the work that PAWS did and thought it would be the perfect time to get involved.

Which PAWS program(s) do you volunteer with? What's your favorite way you help PAWS and why?

I volunteer in Dog Town at the Lincoln Park location, and I also help the operational support team answering emails and processing new volunteer applications. I really do love every part of volunteering at PAWS but doing the mentor sessions for new volunteers is definitely one of my favorite ways to help, because I get to combine spending time with the dogs (which is of course always an instant mood boost) and training/helping other people, which I've always enjoyed. It's fun to be part of someone's first impressions of the shelter and to help get them excited about coming back.


What's special about the PAWS No Kill mission to you/what inspires you to have a heart for animal welfare?

I've never heard of another shelter that puts the level of care that PAWS does into engaging with the community to work towards a truly no-kill city. I've been an animal lover my whole life and getting to learn about all the ways that PAWS prevents overpopulation, individualizes treatment for animals in need, and of course, provides a great shelter environment while they find animals their perfect forever home, has really inspired me.


What's your favorite story about your time at PAWS and why?

I have a lot of favorite stories, especially from getting to help facilitate the meetings between people and the dog that their adoption counselor thinks is their perfect match. It's so heartwarming to get to see the first interactions between the dogs and their new families and I love being even a small part of those exciting moments! Even though I've done tons of showings at this point, I'm always so impressed with how PAWS works to set people up for success with their adoptions. The information and resources that we provide is awesome, and I love getting to send people home not only feeling excited about their new pup but feeling prepared to adjust to the changes that are coming. And of course, knowing that another dog has moved from a shelter environment to a stable home feels amazing.


What are three things you would tell someone who's interested in becoming a PAWS volunteer?"

I'd tell them go for it! There are so many different ways to get involved, so there's a way to help that fits everyone's interests, skill sets, schedule, and personality. It feels great to know that you're contributing to such a fantastic cause, and I'd recommend it for anyone looking to help homeless pets and their community.