Honoring Judith Blazer
by Alexis Fasseas | Apr 30, 2012
Longtime PAWS Chicago Supporter and Heroine of Miss Kitty's Senior Cat Room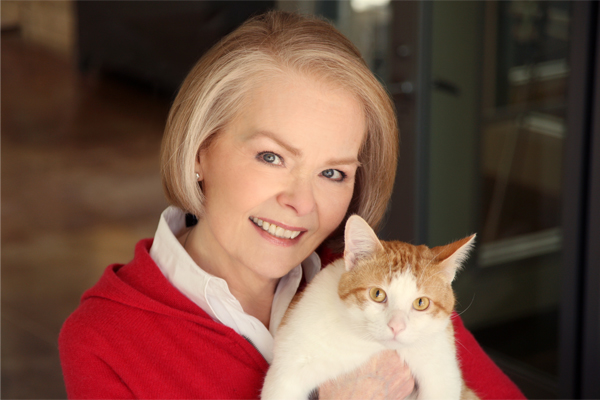 It all began in Little Village, one afternoon in late 2006, over a burrito. Judith Blazer and her longtime friend and assistant Laurie Magee had just visited the construction site of the future PAWS Chicago Adoption Center on Clybourn Avenue and then toured the Lurie Spay/Neuter Clinic and Rescue & Recovery Center on 26th Street with PAWS founder Paula Fasseas. They were sharing tales of the pets that had touched their lives and Paula discussed her vision of a No Kill city and PAWS Chicago's strategic planning to achieve that goal. "On the spot, I gave Paula a check to name Miss Kitty's Senior Cat room in the new Adoption Center, and an equal amount to use in whatever way would address PAWS' greatest need," Judith recalls of the introductory meeting. "We want to say we joined forces over those cute furry things with whiskers, but it was the burrito," Judith teases. "When you're on a low-carb diet as long as I have been, eating a burrito is like going to the world's fair."
Judith's instantaneous and spontaneous generosity surprised Paula, but it was only the beginning of a relationship that would help advance PAWS Chicago to maturity as a leader in the No Kill movement. Judith's love affair with animals began at birth. "The day I was born, my uncle gave me a Doberman, Nero, who slept in my crib with me," Judith recalls. However, Nero's love for Judith was so overbearing that he protected her from all humans and would not let her have any friends. As a consequence, Judith's family had to find Nero a new home where his guarding behavior would not pose a threat to children. Following Nero, a lifetime of pets enriched Judith's life, but she never had a cat until Miss Kitty found her on a cruel, stormy March night in Northern Wisconsin. When Judith went to investigate a scratching sound at her door, she found an emaciated kitten looking up at her. Judith nursed Miss Kitty back from the grips of death, and in the process found a best friend for 16 years. "I can't imagine life without an animal," Judith says. "Whether a dog, hamster, guinea pig, ducks, chickens, rabbits as pets – or the cats that came later in life – my most intimate relationships have been with animals. You can only say that in a PAWS Chicago magazine, but it's true."
Blazer Family History
Judith's family was rooted in Wisconsin following her great-grandparents' emigration from the "Old Country," as she calls it. As is often the case, much of her family's history is folklore, passed down through the generations. Both sides of her ancestry were Wisconsin farmers, but that changed when her maternal grandfather, Niels Miller, founder Miller Electric Manufacturing Company. A manufacturer of welding machines, the company achieved success during World War II.
Niels, who possessed only a third-grade education and worked at a broom factory, invented the first alternating current welding machine in his basement. "He sold that first welding machine and made enough money to build two more, and that's how it all started," Judith says. "He had an inquisitive mind, and I just adored him. He was big, and heavy-set – just enormous. He took me everywhere. We were pals." Though he traveled overseas frequently for business, Judith fondly recounts regular visits to the headquarters: "We used to go together on Saturdays and walk through the company."
Following her grandfather's death in the early '60s, Judith's mother and grandmother took the reins. They led Miller Group Limited for more than 30 years, until they both passed away. "Grandma was just a farm girl – a cook at a hotel when my grandpa met her. And my mother had only two years of college," said Judith. "Yet they went on to continue building this incredible business. They worked in tandem and the company grew tremendously and developed an international presence under their leadership."
Marveling at their internal strength to take over a company in an era when few women ran businesses, Judith went on to describe their motivation: "They were there at the inception of the business, and the company was theirs. They didn't want to lose it." So they went to work everyday to take Judith's grandfather's creation to the next level. In the mid-'90s, following the passing of the two women, Illinois Toolworks purchased the Miller Group.
In 2004, Judith began sharing her time between rural Wisconsin and the city of Chicago, planning to transition to become a fulltime Chicagoan. "I walked by one of the North Community Banks on the way to Whole Foods and there was a poster of Sammy Sosa holding a kitty," Judith remembers. "I was transfixed by that picture and I swore that when I moved here I would get involved with PAWS." Shortly after her move, Judith was speaking with the sales team at Van Cleef & Arpels, and discovered their involvement with PAWS Chicago's Fur Ball. The manager then connected Judith with Paula.
That simple introduction was the catalyst for improving the fortune of homeless pets in Chicago and beyond. "Getting involved immediately was an emotional decision," Judith said. "I wanted to help animals. I was so in love with Miss Kitty and had become so aware of the plight of domestic animals. It seemed that while there was tons of support everywhere for all manners of worthy issues, there wasn't much support for those poor little furry things with whiskers."
Judith's generosity began with Miss Kitty's Senior Cat Room and continued with donating the Judith Blazer Community Room in the PAWS Chicago Adoption Center in 2007. Four years later, she made one of the largest single unrestricted donations in the organization's history – a gift of $1 million. Her incredibly generous support has been used to purchase the Blazer Building, which is located on Marcey Street just one block from the Clybourn Avenue PAWS Chicago Adoption Center.
The Blazer Building will be abuzz with activity on its opening day in May 2012 as home base for all business operations, development, special events, and communications. The building will also anchor a very large training center, planned to open by the end of 2012, that will facilitate the expansion of PAWS Chicago's volunteer training programs and dog-training programs for adopters and the general public. The Blazer Building will also house the No Kill Academy, which is planned to launch in 2013.
This learning center will welcome shelters and rescue from groups across the country (and beyond) to learn best practices for the No Kill model. It is fitting that the focal point for the next generation of PAWS Chicago's national outreach will be based in a building named to honor the generous and compassionate friend of animals, Judith Blazer.
Judith's first and lasting impression relates to the organization's passion and focus on results. "I continue to be amazed by the overwhelming commitment to animal welfare displayed by the people who are associated with PAWS – the volunteers, and the people who work there and Paula Fasseas," Judith says. "And I am thunderstruck by the numbers. I'm thunderstruck that there are such huge tangible results to PAWS' efforts in the community, reducing the number of homeless pets killed in Chicago by 60 percent since its founding."
But it is the mission, and the focus on saving lives that continues to motivate Judith. "I see all these little guys who have just been tossed to the curb, and they have feelings. I watch them at the Adoption Center, waiting for nice parents. And then, they get nice parents, finally. And I am just overjoyed every time I see that." Judith continues, "The sign outside the Adoption Center, 'It's good to be alive!' makes me cry every time I see it. That philosophy sums it up."
"I'm just grateful to be part of PAWS," Judith says. "I am truly grateful. PAWS makes my heart sing." But it is animal lovers like Judith, with their compassion for our voiceless friends, who fuel PAWS Chicago's commitment to the life and value of each pet, from fragility at birth to dignity in old age.
When animal lovers like Judith proclaim that we can do better, as a community, and then support their convictions with dedication and resources, transformation occurs. For all of these gifts – compassion, conviction, dedication and generosity – the people and animals at PAWS Chicago share a depth of gratitude and whole-hearted appreciation for Judith Blazer and, of course, for Miss Kitty, Judith's angel of inspiration.
The cats and kittens who temporarily reside in Kitty City at PAWS Chicago's Adoption Center rest and play in comfort thanks in part to the design team at Kadlec Architecture + Design. Led by founder Steve Kadlec, the team helped to refine the general interior finishes and furniture for each of the rooms in Kitty City when the Adoption Center opened in 2007. From custom furniture pieces and climbing platforms to furniture finishes and signage, Steve's team created a warm and inviting space for potential adopters and an environment where feline guests could climb, jump and curl up for a nap to their heart's content. Steve also took the lead on selecting finishes, colors and furniture for the entire Adoption Center to bring to life PAWS Chicago's vision of a relaxed country escape for four-legged guests, adopters and volunteers.
Steve, a registered architect who has been practicing architecture and design in Chicago for more than 20 years, was introduced to PAWS Chicago through his client, Judith Blazer, who was in the process of designing an environment in her home that was comfortable for her and her cats. His team designed custom cat furniture pieces, which encouraged her cats to play on their own furniture, which were integrated with the interior design throughout the residence.
Kadlec Design's recent projects include a full floor penthouse residence at the Elysian Hotel, a complete restoration of a historic pre-war co-op in Streeterville and work with Northwestern University in Evanston. Steve's team will also soon begin work to develop new and refine existing cat furniture designs for each of the cat rooms in Kitty City. New versions of cat furniture are being developed based on input from PAWS staff and volunteers who have such an intimate relationship with the animals and their environment. He is also offering services to design the interior of the Blazer Building, which will house all of PAWS Chicago operations, volunteer training and serve as an additional dog training center.
Thanks to Steve and his terrific design team, the cats and kittens in Kitty City have a comfortable and relaxed environment while waiting for their new families.
Letter from a Senior Cat Adopter
In the fall of 2010 we were looking to adopt an orange male tabby – we just love their feisty personalities. We came to PAWS on a Sunday, we saw a young boy, and then we saw Alan in the "Senior Room." The volunteer said that Alan would not do well with other cats. He had been with PAWS for more than nine months.
When we returned the next Sunday, there was a different volunteer in the Senior Room who had more positive things to say about Alan. She knew we were cat people and understood that we would know how to bring him out of his shell. All we knew about him was that he was hard of hearing and only had four teeth, three of them were already black and would need to be pulled. Alan just tugged at my heartstrings. I knew he would be hard to place due to his age, which was estimated to be around 9-10, and his pre-exisiting medical conditions.
When we adopted him, we had two other cats at the time and a dog. We kept him in the den with his own food, treats and litter box. He loved when I came in to pet him and demonstrated his pleasure with frequent head butting. We had three teeth pulled, and discovered he is totally deaf. Over the months, he started to come out of his shell. He is still wary of men, but he now loves my husband. He sits on my lap and just purrs, especially when I give him head rubs.
About six months ago I noticed he was slightly dragging his left hind leg, and after a vet visit and blood work, he was diagnosed with diabetes. Twice a day he gets insulin, my husband injects it under his skin like a pro.
Alan, now called Toby, is pampered, loved, and will be well cared for for his whole life.
Thank you PAWS for taking him in and waiting for us to come along. Everyone should visit Miss Kitty's Senior Cat Room and say hi to these great cats!
Sincerely, Judith and John Sutton