Goodbye painful past, hello loving home!
Aug 28, 2023
After a terrible injury, Frisco is leaving behind his struggle on the streets and discovering the joys of life as a loved pet.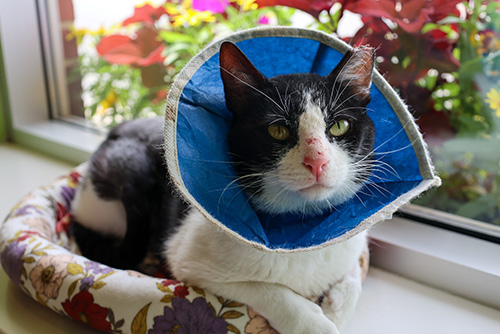 Frisco came to PAWS through our Trap Neuter Return (TNR) Program, in which we help cats in Chicago's underserved neighborhoods to be spayed or neutered. As Frisco was being prepped for surgery, we found an extensive injury on his back.
Frisco likely got stuck under something and badly cut up his skin trying to get out. That day, he became a PAWS pet so that he could have the full support of our medical team to heal his wounds and find him a loving home.
The PAWS veterinarians debrided Frisco's wound to remove damaged tissue and used a special stitching technique to help his skin heal. After weeks of continuous bandage changes and close monitoring, Frisco's back was totally transformed, and he was feeling so much better.
His transformation continued on the inside too—after eating what he could to survive on the streets, his appetite greatly improved, and he started gobbling up the nutritious Merrick Pet Food all our shelter pets enjoy!
Now this sweet boy is ready for adoption! He is already loving the spoiled life of an indoor cat while he hangs out in foster care, and he will surely make a special companion!
Frisco is FeLV+, which means he's looking for a home with fellow FeLV+ cat friends, or a cat-free home but he can live with dogs.