The eyes of a nation were on him, as was the accumulated pressure of an event 108 years in the making, a billy goat curse and generations of hopes, fears, upsets and 'wait-til-next-year's.
It was extra innings in Game 7 of the World Series. After a 17-minute rain delay, the Cubs were at bat in the top of the 10th. They had lost a 6–3 lead in the 8th inning. Cub fandom was collectively holding its breath. Would this team overcome the weight of history, or would the trend continue in what had become classic Cub fashion— devastation and heartbreak?
That's what pinch runner Albert Almora was contending with as he ran over to first base after Kyle Schwarber had just led off the inning with a single. "As soon as I stepped foot on first base, I shockingly felt relaxed," Almora said. "I tried to take it all in and really understand the magnitude of the situation."
Kris Bryant was up and hit a deep fly ball to center. Most base runners would have trotted out half-way to second to be in scoring position in the event the ball hit the wall. But Almora's savvy baseball intellect translated to reading the ball's trajectory and Indians center fielder Rajai Davis' body position, as well as taking into consideration Davis' arm strength and accuracy. Almora made the gutsy call to tag up. He advanced to second base in what Chicago Tribune sportswriter Steve Rosenbloom called "the savviest baserunning play of the season."
That play forced the Indians to intentionally walk Anthony Rizzo. Ben Zobrist was at the plate. "When Benny hit that line drive down the line, I knew I was going to easily score a run. I wanted to make sure I stepped on every base, especially home plate, so I could go crazy with my teammates in the dugout," Almora said, reflecting on that moment.
He was the go-ahead run. The Cubs ultimately went on to win 8–7. History was made. The crowd was wild, the city of Chicago erupted. "Chicago fans are insanely powerful. We feel their intensity and support day in and day out," Almora said. "They are true fans and in my opinion are the best in baseball!"
For Almora, it was quite the capstone to complete his rookie season.
WHERE IT ALL BEGAN
That moment of greatness was set in motion in 2012. It was June, just months after Theo Epstein left Boston to become President of Baseball Operations for the Cubs, and it was draft time.
Seventeen-year-old Albert Almora was Epstein's first draft pick with the Cubs—the sixth player selected overall in 2012. Thinking back to that moment, Almora said, "I was really excited to potentially have the opportunity to play for Chicago and experience the atmosphere at Wrigley Field."
He had been named USA Baseball's Player of the Year in 2011 and tied a record for playing on six national teams while in high school. But his baseball lineage goes much further back. His father, Albert Sr., played baseball in Cuba before defecting to the United States more than 30 years ago. Albert Jr. began training with his father when he was just three years old.
Almora emblemized what was important to Epstein as he set out to build the team that would become World Series champions. In scouting notes from 2012, Cubs Scouting Chief Jason McLeod said, "If you look at the total package of Albert, he has the ability to no doubt play in the major leagues, but it's also the makeup and work ethic, how he carries himself and the leadership he's shown. It's what we're looking to do here with the Cubs — to bring in somebody that will be an impact player and to impact those around him."
Almora's work ethic, his 4.3 GPA in high school and his dedication to working out with his dad constantly all factored into his draft selection. "It goes back to the evaluation of him as a player on the ability, but even more on the makeup side," McLeod said. "He's driven to succeed and be the best. It will be about him and what he does for this franchise moving forward. We feel he will handle it well because of who he is and what it means to him to be great."
That solid makeup continues today. When asked about what he would say to young kids who want to pursue the dream of baseball, Almora said, "My go-to advice is to always work hard. Don't let anyone tell you, you can't do something. Work harder than everyone else, have a lot of confidence in yourself and your abilities. And most important, have fun!"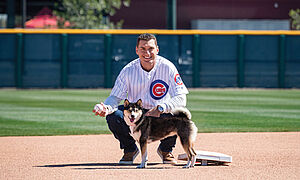 MORE THAN BASEBALL
In 2016, Almora's milestones transcended the field. He and his now-wife Krystal celebrated their nuptials and welcomed their son, AJ, to the world. And, to top it off, his father successfully fought cancer and is in remission.
"Family is everything to me," Almora said. "They are my biggest critics, but also my biggest supporters. Now that I am a father, I honestly look at life in a different perspective. I can have a bad game and come home and just be a dad."
In addition to AJ, Albert is father to Luna, a Shiba Inu. Both the Almoras grew up with pets in their lives. They brought Luna home just before the passing of Dro, a Bully Breed dog who was found wandering the streets. "Having Dro by my side through some of the hardest times in my life meant everything to me," Krystal reminisces. "The little things he did like licking my face and making me smile when I got home is what it's all about."
Krystal fills with emotion when reflecting on Dro suffering from ACL surgery, subsequent infection and a spine injury. "We were told he wouldn't be able to walk again, but I knew he had more time on this earth. We dedicated everything we had to get him mentally, physically and emotionally healthy and walking again." And, through love, determination and persistence, they succeeded. He lived another three years.
"The journey we had in the end was incredibly difficult but worth every second," Krystal said. "I want to get involved in animal welfare because I have love for every animal. The memories I had with my pets who helped and loved me through challenging times is something I want others to experience and embrace. It's important to get involved and give back to our pet community."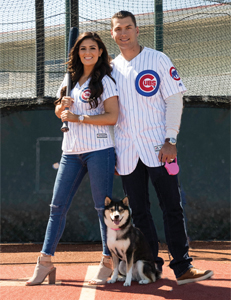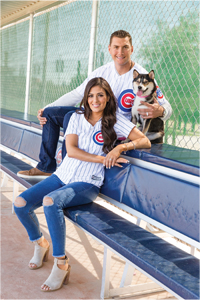 THE ALMORAS' INTENTIONAL WALK FOR HOMELESS PETS
Next up, the Almoras will be partnering with PAWS Chicago to engage the community in helping homeless animals through their Intentional Walk campaign. "Chicago definitely feels like my second home," Albert said. "This city treats my family very well, which is something I will forever be grateful for." And now he is looking to give back.
"It makes me happy to know I can make a difference in saving an animal's life by raising awareness for pet adoption," Krystal said. "I want to contribute to something close to my heart, which is why Albert and I look forward to teaming up with PAWS Chicago for The Almoras' Intentional Walk."
The Almoras are looking to help raise awareness for homeless animals. "We want to increase the odds of winning for shelter dogs by encouraging people to volunteer at local shelters to walk and interact with dogs," Albert said. "We understand many people want to help pets but are not in the position to adopt or foster an animal, so we wanted to launch a program that will encourage pet lovers to find time to walk a shelter dog."
"Pets are important to me," Albert said. "They make a family whole and can bring so much happiness. There's nothing like that feeling of coming home after a long day to be greeted with a big kiss."
Now Albert, Krystal and AJ will share that love with homeless animals and PAWS Chicago.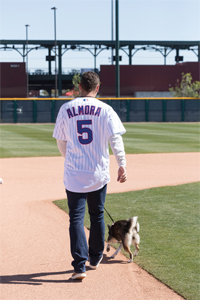 ---
INTENTIONAL WALK CAMPAIGN
For more information on how to get involved in the Intentional Walk campaign visit pawschicago.org/intentionalwalk
Read this story on page 22 of the Spring/Summer 2017 issue of PAWS Chicago magazine.