A Day In the Life of the Shelter Medicine Team
Mar 09, 2021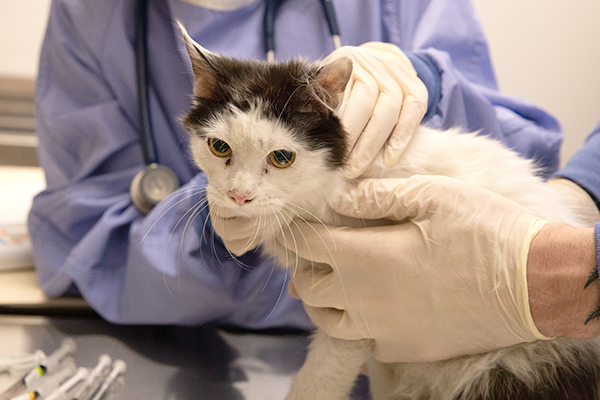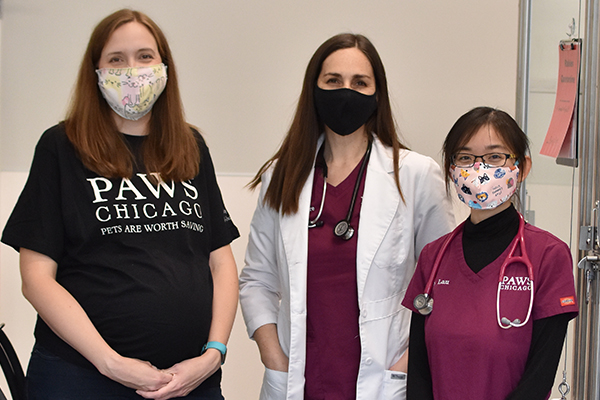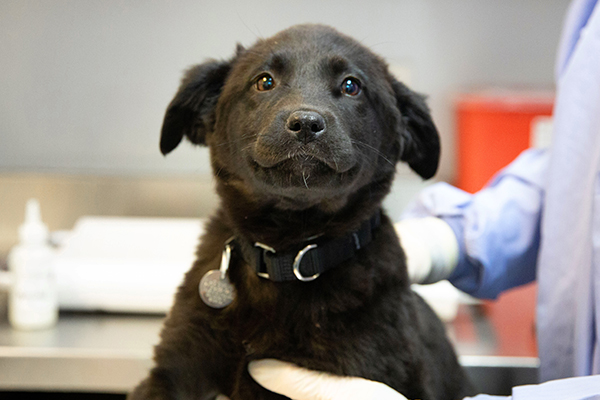 Wake up, gown up, save lives. It might sound like the introduction to a TV show, but it's what our Shelter Medicine team does every single day at the PAWS Chicago Medical Center!
The Shelter Medicine team is comprised of the PAWS veterinarians, veterinarian techs, and staff who are responsible for ensuring the medical care and safety of the animals at PAWS Chicago.
It can be hard to wrap your head around all that's needed to care for these animals! So, what exactly does it look like?
We caught up with Lauren Novak, PAWS' Assistant Director of Shelter Medicine, and Megan Valleyfield, a PAWS Veterinary Technician, to talk about with their jobs include day-to-day.
As Lauren said, "The Shelter Med Team is responsible for caring for the medical needs of every animal that comes to PAWS Chicago." With over 500 cats and dogs in our care at any given time, this means hundreds of vaccinations administered, medications prescribed, and check-ups given each month.
Megan starts her day distributing "medications to help the animals heal so they can be at 100% health to go to the Lincoln Park Adoption Center." Whether an animal is diagnosed with a mild upper respiratory infection or a life-threatening illness like parvovirus or panleukopenia, team members like Megan ensure each dog and cat receive the medicine they need to heal. And while medication's a great way to treat many illnesses, the healing process doesn't stop (or even start) there–oftentimes, injury and illness treatment includes "giving fluids, cleaning wounds, administering nebulizer treatments, providing supplemental feeding, offering critical nursing care, placing IV catheters," and so much more, explained Lauren.
From there, Shelter Medicine team members work to limit disease spread amongst the PAWS animal population. For Megan, that means "sending animals out as foster priorities" so they can continue their healing journey in a comfortable, pet-free environment, lending a hand during foster appointments, and administering vaccinations.
When an animal with an emergency case arrives at PAWS, Megan and her fellow Shelter Medicine team members are there, too, running labs to determine a diagnosis and assisting the veterinarians with their needs. As for the vets themselves, Lauren said, "they examine pets with unknown backgrounds and develop treatment plans for them based on the ailments they discover," and from there, "they interpret x-rays and diagnostic testing to make sure each animal will be happy and healthy. Our vets work as a team to make sure our animals get the most advanced treatments."
Despite the emotional toll of caring for sick or injured animals, both Megan and Lauren said it's all worth it to help the animals who need help the most. "It brings me great joy to see the animals get a home at the end of the day. I become so close with a lot of the animals at PAWS like they are my own personal animal," said Megan. Lauren agrees, stating that all "the Shelter Medicine Veterinarians, Technicians, and Assistants put their heart and soul into the care they provide to each cat and dog that comes to our care."
Thank you to our Shelter Medicine team for saving the lives of so many homeless pets!
Even if you're not a veterinarian or veterinarian assistant, you can help the pets at PAWS, too! Donate to cover the costs of some of our most-needed items at shop.pawschicago.org.