Medical care plays an important role in your dog's life
There are many diseases your dog can come into contact with. The good news is, you can prevent most of them with vaccinations and monthly preventatives.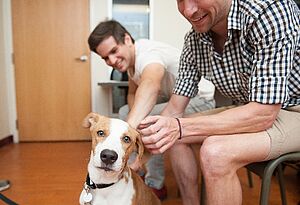 Common Conditions
Kennel Cough
Kennel cough is usually caused by several infectious agents working together to damage and irritate the lining of the dog's trachea and upper bronchi.
It will stimulate a coarse, dry, hacking cough about three to seven days after the dog is initially infected. It sounds as if the dog needs to "clear his throat" and the cough will worsen with extra activity or exercise.
Dogs who acquire kennel cough will cough every few minutes, all day long. Their general state of health and alertness will be unaffected; they usually have no rise in temperature and do not lose their appetite. Symptoms usually will last from 7 to 21 days.
Life-threatening cases are extremely rare. Most dogs will recover on their own with no medication but some cases can progress into pneumonia. Cough suppressants and occasionally antibiotics are the usual treatment selections.
There are safe oral and nasal vaccines for kennel cough that are preferred over the injectable forms. Keep your dog up to date on vaccinations to help prevent kennel cough if you are boarding or kenneling your dog regularly.
Parasites
Worms
Parasitic worms are very common in dogs and puppies. In most cases, worm detection is easy via a fecal sample and treatments are effective. Ignoring possible symptoms and necessary treatments can lead to serious illnesses and sometimes even the death of your dog, as well as the possible transmission of a worm infection to you.
Dogs adopted from PAWS Chicago have received a deworming treatment for common worms but additional treatments may be needed. Your veterinarian will work with you to determine if additional deworming treatments are required.
Giardia
Giardia is a microscopic intestinal parasite that dogs contract through water or other substances contaminated with feces of an infected dog. Giardia can cause diarrhea, dehydration, weight loss and even death. If your dog is having diarrhea, a fecal test done with your veterinarian can determine if he has giardia and proper treatment can be started. While rare, giardia can be transmitted to humans from dogs.
Fleas and Ticks
Fleas are the most common parasite found on dogs and can lead to allergies, worms and other medical conditions. Ticks are parasites that attach to the dog's skin and feed off their blood, causing anemia, Lyme disease and Rocky Mountain spotted fever. Fleas and ticks are more commonly seen in warmer temperatures with ticks being prevalent in wooded areas. Many products exist on the market to kill and prevent fleas and ticks. Discuss the best product for your pet with your veterinarian. All dogs adopted from PAWS Chicago have been treated with flea and tick preventative.
Orthopedic Conditions
Hip Dysplasia
Canine hip dysplasia (CHD) is a congenital disease that can affect any dog, but is often seen in large-breed dogs. The word "dysplasia" means improper growth.
Hip dysplasia can be described as a faulty or abnormal development of the hip. In CHD, the hip becomes loose and wobbly. This can eventually lead to a form of arthritis called Degenerative Joint Disease (DJD).
The degree of lameness that occurs is usually dependent upon the location and extent of arthritic changes in the hip joint. Environmental conditions, such as exercise and weight, contribute to the disease.
Typical signs of CHD are:
Reduced activity
Problems with stairs
Less jumping
Trouble getting up or laying down
Painful reactions to the extension of the rear legs
A faint popping sound or crunchy feeling coming from the hip
Treatment for CHD can include nutritional support, supplements and herbs, anti-inflammatory medications, non-concussive exercise, massage, acupuncture, and, when it is very severe, even surgery. Treatment depends on the severity of the dysplasia, discomfort and lameness, amount of DJD, the age of the dog, the size of the dog and more.
Luxating Patellas
The patella is what is known in humans as the knee cap. Grooves in the femur bone along with muscles keep the patella in place. The patella guides the muscles in the leg to enable a dog to walk and the patella also helps protect the knee joint. In some dogs, the grooves in the femur are not prominent and the patella will often jump out of the groove, or "luxate". Once a patella luxates out of position, the dog will often hold the leg up until the muscles relax and allow the patella to slide back into place.
Luxating patellas are graded based on degree of severity and many dogs live normal lives with luxating patellas. In more severe cases, surgery is indicated if the patella does not return to normal or the dog is regularly having trouble walking because of the patella issue.
Smaller dogs are more prone to luxating patellas and there are available massage therapy techniques and exercises to help improve the degree of luxation.
Serious Conditions