Help pets overcome traumatic experiences
Many of our pets arrive scarred from past experiences. Abuse, neglect, trauma and improper socialization can cause them to be anxious, afraid of loud noises, overprotective or wary of other animals. Some are fearful of new environments, new people or simply going on walks. At PAWS Chicago, we call these special pups our Gold Star dogs.
We know that with the right training and structured environment, pets can overcome a traumatic past. Through our Training Center and team of behavior experts, we are able to offer customized and routine exercise, enrichment, rehabilitation and training for our Gold Star dogs.
---
Four Key Components
With PAWS Chicago's No Kill commitment, behaviorally or socially challenged dogs are given the enrichment and training they need to be successfully united with loving families. Our Gold Star dog program's success is based on four components:
---
Gold Star Dogs for Life
PAWS Chicago's commitment to our Gold Star dogs continues for life.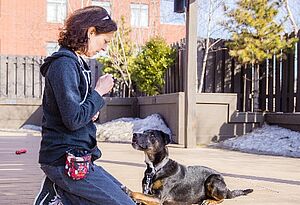 Following adoption, we continue to support our Gold Star dogs to ensure a smooth transition to and long-term success in their new homes.

Gold Star dog adopters are given a Custom Training Plan that includes complimentary individual training sessions with our training experts or complimentary group obedience classes for the first year of adoption.
Gold Star dogs also receive special discounts for agility, fitness, nosework and other enrichment classes.
---
Adopting a Behavioral Program Dog
Matching Behavioral Program Dogs with the right family is the most important component to lifelong success. We work to ensure our Behavioral Program Dogs and Adopters get off to the right start. Home environment, family structure, personalities and experience with animals are all taken into account.

The Steps of Adoption
The Consultation: You meet with PAWS Chicago's behavior specialists to talk through the dog's social and behavioral challenges and ideal home environment.
Meet and Greet: Every family member meets the dog. This is an opportunity to talk through specific concerns, such as continued training needs, behavior triggers and home environment.
Home Visit: A home visit can be arranged when necessary, though it's not required.
Adoption: Congratulations! You have rescued a very special dog. And PAWS will be there for the lifetime of your relationship.
Training and Resources:

Behavioral Program

Adopters receive a Custom Training Plan. Dogs are eligible for complimentary or discounted training classes with PAWS Chicago trainers.
---
Other Ways to Help
Foster

To become a

Gold Star dog f

oster, start by contacting the PAWS Chicago Foster Team to schedule a consultation. Or, learn more about becoming a foster parent.



Volunteer

Volunteers are what make PAWS Chicago work. There are a variety of opportunities, including the advanced work with

Gold Star dog

s. Find out more about how you can volunteer.



Donate

Your financial support is lifesaving, enabling us to continue to transform our

Gold Star dogs

. Donate today.