The Animals
The Medical Center provides treatment for dogs and cats across Chicagoland and from 13 states where pets are most at risk of euthanasia.
Nearly every week, vans arrive at the Medical Center with homeless pets from Chicago Animal Care and Control (CACC) and southern transport partners that don't have medical resources to care for them. PAWS is CACC's largest transfer partner for dogs and cats. Our team also helps transport, treat, and find homes for animals displaced by natural disasters like hurricanes, floods, or tornadoes.
No matter where they come from, the Medical Center can now address next-level needs facing a large volume of today's homeless pets, including contagious (but treatable) diseases that disproportionately affect shelter pet populations, like parvovirus, panleukopenia, and pneumonia.
On any given day, the PAWS Chicago Medical Center provides hospitalization to more than 200 pets, like Candy and Kaleena.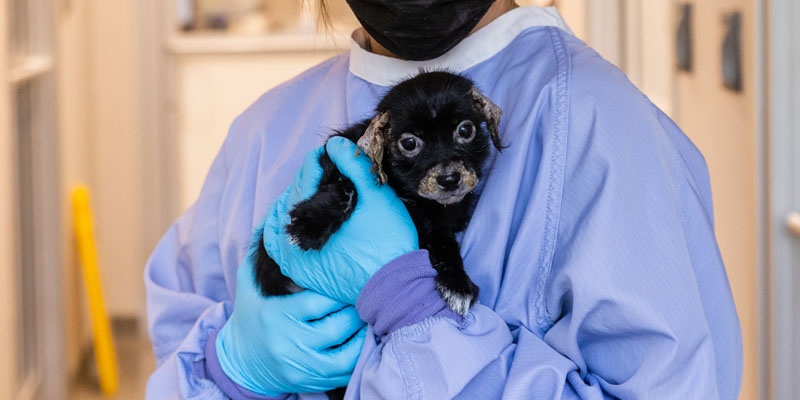 Candy
Three-month-old Candy was found alone in a milk crate in an alley by a Good Samaritan who brought her to Chicago Animal Care and Control (CACC). When CACC sent PAWS her picture, the intake team rushed over to bring her into our program so she could heal. Candy was suffering from severe skin issues that left her little nose, eyes, and ears irritated and crusty. Despite her painful condition, Candy's tail never stopped wagging and she quickly won over every staff member and volunteer with her sweet disposition. During her treatment at the Medical Center and time in foster, Candy's scabs slowly healed, and her fur grew back. Now, Candy has made a complete transformation and is currently enjoying her first happy weeks in a new home.


Kaleena
When three-year-old Kaleena was found as a stray, she was suffering from painful, infected puncture wounds on her hip and at the base of her tail. PAWS's recent Medical Center remodel and expansion included the addition of advanced surgical suites, allowing an expert medical team to repair her wounds in-house. Kaleena was also spayed at the same time, so she didn't have to undergo two separate procedures. After a week of healing under the watchful eye of the PAWS medical team, Kaleena moved on to the PAWS Chicago Lincoln Park Adoption Center where it took just one day for her to find a loving family. From injured on the streets to happy at home, Kaleena's quick but complex journey was made possible by the capabilities of the PAWS Chicago Medical Center.