Volunteer of the Month: Joe Zanoni
May 24, 2022
Joe Zanoni is a passionate advocate of PAWS' Medical Center and helping animals who are sick, injured, and healing. Discover what inspired Joe to become one of our most dedicated volunteers.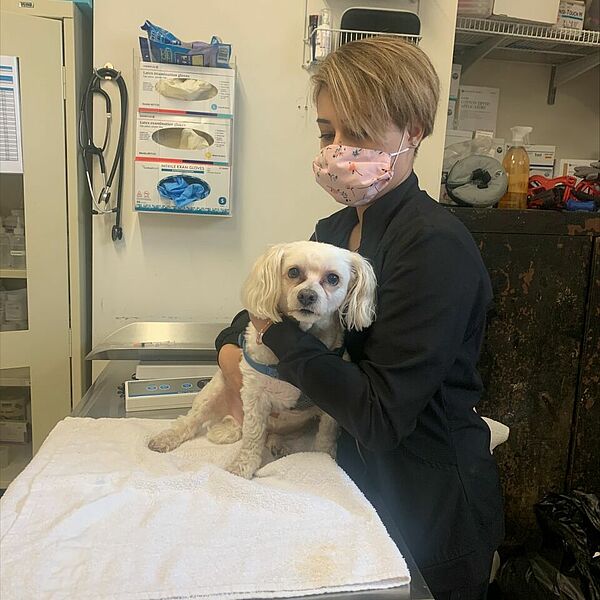 Joe Zanoni started volunteering with PAWS in July 2021. He was inspired to give back after he and his husband, Albert, lost their two senior chihuahuas, Mammas and Paco Taco, from congestive heart failure.
"I marveled at the animal intensive care unit and our veterinary cardiologists. I wanted to offer dogs in need care and support for healing," said Joe.
Joe is now one of our most dedicated volunteers at PAWS' recently expanded and remodeled Medical Center. He's also one of our greatest advocates.
"The grand re-opening of the Medical Center was a profound event—we learned that spay/neuter takes priority along with vaccinations to have upstream impacts on the health and welfare of dogs and cats. This means having an incredible commitment to teaching, learning, diversity and welcoming all people."
While Joe appreciates the big picture of our mission, his fondest memories at PAWS are small moments with animals like Toby—a tiny, blind terrier.
"I love dog walking at the Medical Center. After walks one day, I went to visit Toby. He was so excited and happy when I entered his room. I brought plenty of treats and he raced around sniffing and finding them."
Then something even cuter happened.
"He came up to me and started to lick my face. He kept the kisses coming and climbed up on my shoulders and started to lick my head. I was shocked, ecstatic, laughing, and grateful for my visit with Toby. The sun was shining in his room, and the music was playing. It doesn't get better than that!"
In addition to time with pets, Joe's a big fan of PAWS' people.
"I have learned so much from other volunteers at all levels. I am always welcomed and thanked which creates a wonderful culture of caring."
Interested in becoming a volunteer like Joe?
"Take the plunge! Volunteering is great and happens around your schedule. You can learn online and bring a friend with you," says Joe.