Trading stray life for star treatment
Feb 17, 2023
Imagine living on the streets with a nonstop migraine. That was Doug just a month ago.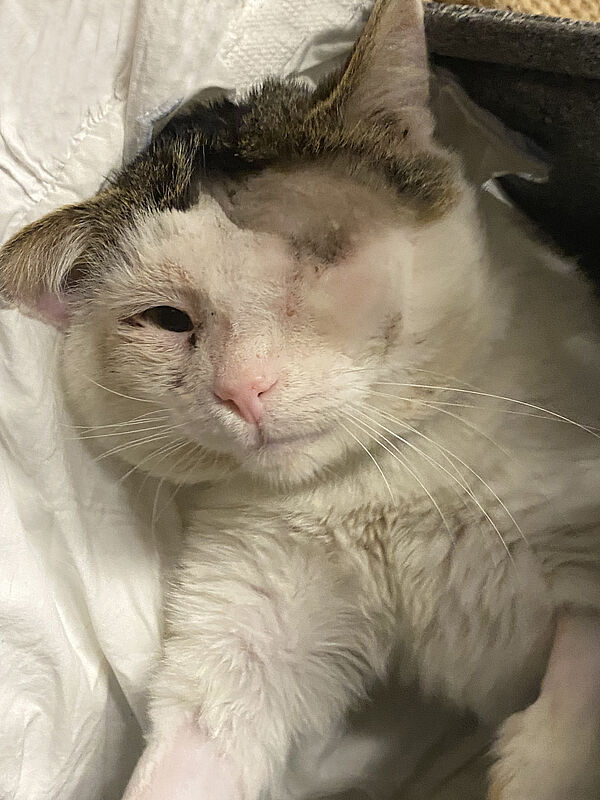 5-year-old Doug was a community cat that was being cared for by a very kind human who fed him and gave him shelter. You could say it was the "glamping" of stray life.
When his caretaker passed away, her daughter sought out help for sweet Doug when it seemed his health was declining— and it's a good thing she did!
Doug was miserable when we met him. He was in significant pain from a very infected, swollen eye, and had several wounds that needed cleaning. He was barely moving, and generally down in the dumps from his condition.
The PAWS Medical Center is the perfect place for a cat like Doug to end up, because our state-of-the-art diagnostic equipment, surgical suites, and shelter medicine veterinary experts are right there and ready to help get him on the path to recovery.
After an emergency enucleation, Doug was a different cat! Happy, playful, snuggly, it was so clear he was relieved to finally be pain free. Once he had fully recovered, Doug only spent one afternoon at our Adoption Center before he was scooped up by a loving adopter!