The Stars Align for Albany
Mar 27, 2023
After being dragged by a car and left on the side of the road, puppy Albany's life hung in the balance. But thanks to a Good Samaritan, a social post, and PAWS Chicago, everything was about to change.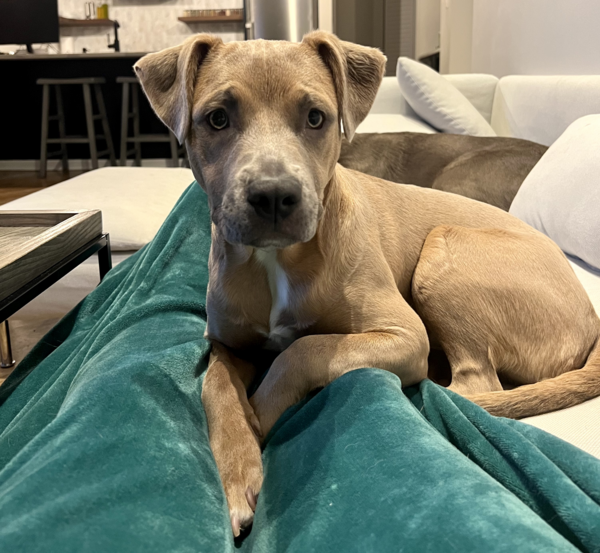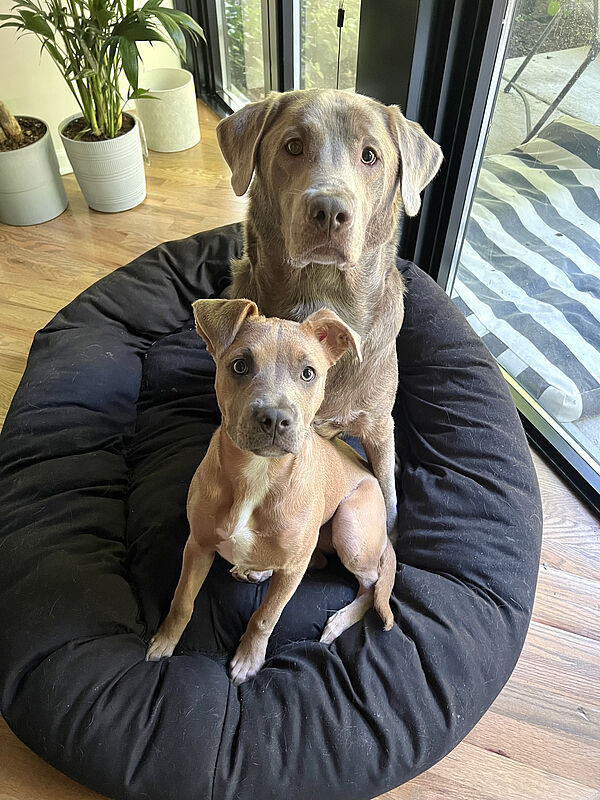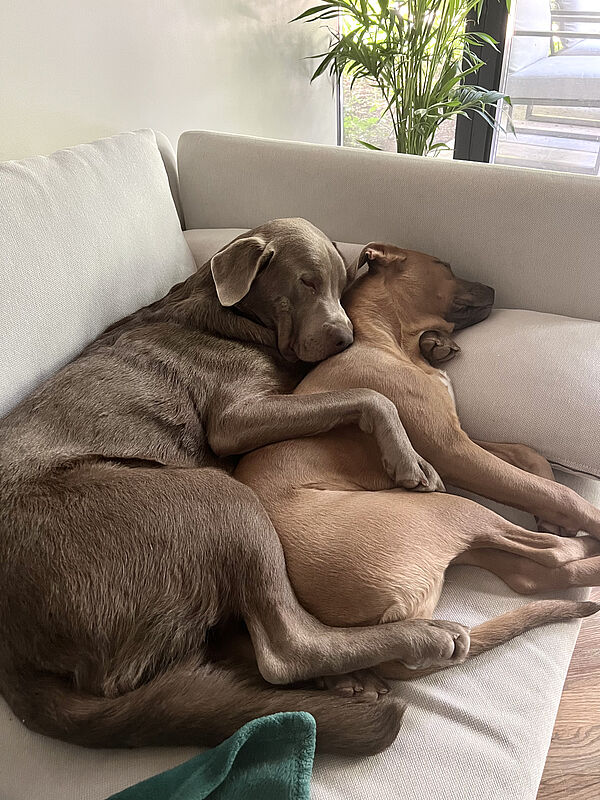 Puppy Albany was left on the side of the road after being dragged by a car. Critically injured, a Good Samaritan found her and brought Albany to PAWS Chicago where she underwent emergency surgery. Albany had wounds so deep they displayed her bones, and our veterinary team had to remove over 20 pieces of gravel from under her skin.
Incredibly sweet despite the cruelty she'd experienced, Albany spent two months in foster care healing before moving onto the Adoption Center. Once there, a single social post ended up changing her life (again).
"We knew Kaia (Albany's adopted name) was meant to be ours from the moment we saw her on PAWS' social media! After reading her story and seeing the news segment about her, I started crying and knew this sweet dog needed a safe & loving home," said Adriana Romani.
Adriana submitted an adoption application ASAP. Having volunteered with PAWS for over five years, she knew how quickly puppies can get adopted.
"I called PAWS to see if she was still available and they let me know she was in a meet & greet with another family. We rushed over to PAWS, met Kaia and fell in love," said Adriana.
However, there was one problem.
"We live on the opposite side of Chicago, and it was rush-hour and PAWS was about to close and we needed to go get our other dog, Loki, to meet Kaia before taking her home."
Luckily, the stars aligned.
"In some form of a miracle there was NO TRAFFIC at 5 p.m. and we got home in a breeze. We brought Loki into PAWS and the pups immediately loved each other. Getting Kaia was nothing short of a miracle. So many moments had to align perfectly for this to work out."
It took a little time for Kaia to adjust to her new home, but now she's now completely settled in.
"With time and patience Kaia really opened up, got accustomed to her new environment and routine, and she's now the perfect addition to our family."
It's clear Kaia is exactly where she belongs.
"She loves playing with her big brother, Loki. Despite being half his weight, Kaia always beats him at tug-of-war. She loves to lay on the grass in the middle of our walks. And she loves to cuddle and is convinced she's a lap dog."
Kaia is proof positive that every pet, no matter their circumstances, deserves a second chance.
"Kaia is such a resilient girl. She is so sweet towards everyone she meets despite the cruelties she went through. She follows us lovingly around the house and loves to cuddle. Having Kaia in our family has been such a rewarding learning experience and we can't wait to watch her grow."
Interested in adopting a pet from PAWS Chicago?