The Marvelous Mrs. Mazzy
Aug 28, 2023
Mazzy was stuck at Chicago Animal Care and Control. Her back legs were in a cast, she couldn't go on walks, and she couldn't be adopted. She needed the kind of help only PAWS Chicago could give. Read about Mazzy's marvelous transformation into a smiley, active, and happily adopted pup.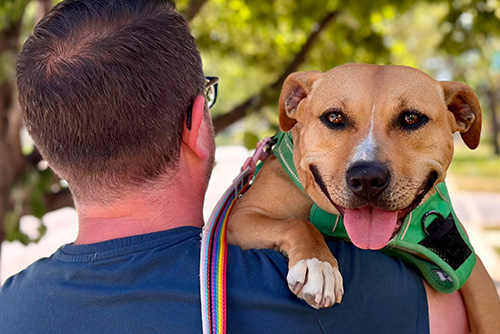 Like every PAWS pet, Mazzy's journey began at our Medical Center. Something was wrong with the joints in her back legs, and we had to find the cause.
After close examination, our medical team found that Mazzy was suffering from luxating patella—meaning, her knees would sporadically and painfully pop out of place. The only solution was surgery, but that was just the beginning.
After operations to repair both legs, Mazzy needed months of rehab, follow-up visits, and supportive foster families to recover. But, in the end, it was all worth it because Mazzy not only gained full mobility, but she also gained a family—Iris and Chris Strupp.
"Chris saw her on the PAWS website and was instantly drawn to her sweet face. Her history definitely tugged at our heartstrings, and something just felt 'right' about her, so we applied to foster," said Iris.
Chris and Iris first met Mazzy via Zoom when she was with her previous foster family.
"She was super cuddly with their cats and felt like a good fit for our family. We began fostering the following week while Mazzy continued her physical therapy until she was medically cleared for adoption. But the foster was just a technicality for us—we knew she was part of our 'Furever Family' the moment we got her home."
After making the adoption official, Chris and Iris played "Fade Into You" in the car while driving Mazzy home from PAWS the first time.
"We kept her first name and added Star as her middle name in homage to the band: Mazzy Star Strupp. Her nicknames include Mazzle Dazzle, Lady Mazzington, Razz-ma-tazz!"
While Mazzy has only lived with Chris and Iris since April, she's already right at home.
"It feels like she's always been here. She's good with our cats, who are still unsure of her, and is quite popular with the neighborhood kids. She's happy to be with us and do whatever we're doing, especially if it's outdoors."
Today, Mazzy is putting her pain-free legs to good use doing all her favorite things, like dismantling squeaky toys and going on walks in the woods.
"Mazzy is the sweetest dog; she wants to be friends with everyone she meets! She has a lot of personality and keeps the whole family laughing. She's brought so much love and joy to our home with her snuggles and pittie smiles."
Chris and Iris are overjoyed they were able to give Mazzy a second chance.
"We're so thankful to PAWS for providing the medical care for Mazzy to gain full mobility so she could live an active and happy life. We encourage everyone to give dogs with additional support needs a chance. Mazzy has so much love to give, and our lives are better for adding her to our family."