Spot's New Start
Jul 20, 2023
Horribly injured and living on the streets, Spot was in real trouble...until the PAWS Community Outreach Team stumbled upon him and transformed his life.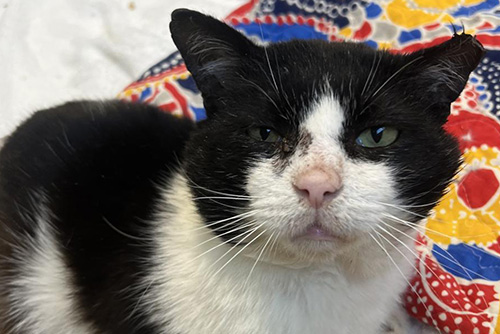 Our Community Outreach Team was working in the field when they met Spot, living as a stray with a serious injury to his foot.
His toes were severely broken and bent backwards on his hind leg. Although we'll never know what caused it, we knew we could turn Spot's life back around.
Spot immediately came to the PAWS Medical Center for surgery. Despite how much pain he was in, we could tell a sweet cat was just below the surface, ready to be loved. X-rays showed Spot's bones were too damaged to repair, and after an amputation, Spot was feeling brand new!
With long-awaited relief from what was likely weeks of pain, Spot was now a bundle of love. Purring through laser therapy to help speed up recovery, schmoozing the medical staff into extra cuddles, Spot is what we call a "model patient" and future perfect companion.
That wasn't the extent of Spot's needs, but it's smooth sailing from here on out! After relaxing in foster care for a while, we'll give Spot a much-needed dental operation and find him a loving home to settle down in.