BEFORE HE MET RESCUE DOG BELLA, DAN MAURO KNEW HE WANTED A FLAT-COATED RETRIEVER. HE'D GROWN UP AROUND THE BREED AND KEPT AN EYE OUT AT PAWS CHICAGO FOR DOGS BEARING SIMILAR FEATURES.
Soon enough, Bella came to the facility. Dan suspects she is half Flat-Coated Retriever, half Border Collie — a great mix, and just the dog he hoped to find.
"I've never met a dog that has such little idea of personal space, and I mean that in a good way," Dan said. "You bear hug her and she'll give you a kiss. She never wiggles away. She just wants to be right there with you."
But Bella didn't look exactly as Dan expected her to. When she came to PAWS in 2009, she was 90 percent bald and had scratched herself to the point of bleeding because of severe allergies. PAWS had taken her in despite not having room in its medical facility because "they knew if she'd gone anywhere else, she'd likely be euthanized because her allergies were so severe," said Anita Mauro, Dan's wife and Bella's co-parent. "But her personality was off the charts, so they had to figure out a way to take her in."
The Mauros weren't deterred. They took Bella right away, first as a foster, and worked with a veterinary dermatologist to determine whether her allergies were food-based or environmental. They experimented with different diets — fish-based foods and different types of grains — before determining that she wasn't allergic to foods.
Then came the scratch test to find environmental factors. Suddenly, the Mauro family had answers for beloved Bella.
"Dust mites, fleas, pollen, grass — she's allergic to pretty much everything," Dan said.
They noticed an improvement during winter, but when spring came around, Bella's allergies flared up again. Allergy shots allowed some relief, and a new drug had just come on the market that cured the rest of her allergy symptoms.
"It was a miracle," Dan said of the drug, Apoquel. "It doesn't cure the actual allergies, but it blocks the itching sensation, and if she doesn't feel the itch, she doesn't have the compulsion to itch and scratch and bite at it."
In addition to finding the medication, the Mauros went above and beyond to ensure Bella's allergies wouldn't get the best of a great dog. They feed her a fish-based diet because the fish oil in the food helps coat her fur to keep allergens away from her skin. They also try to keep her away from certain grains, which have been shown to trigger other allergies.
Their house is also allergen-proofed as much as possible. Anita uses a pet-safe dust-mite spray on the couches and area rugs, and she washes Bella's bedding regularly. Bella's baths include a special shampoo with an antihistamine and special moisturizing features.
On top of all that, the Mauros decided they would live better without their wall-to-wall carpet, which can trap allergens in the home. They replaced that carpet with flooring made from recycled plastic cutlery in another effort to make their house into Bella's forever home.
"I don't want to make it sound onerous because I wouldn't want people to be discouraged from adopting a dog with allergies. It's not hard or expensive — it's all pretty easy stuff. We just took some extra steps," Dan said.
Anita calls Bella "the biggest love in the world" who is totally worth the small extra steps the couple took to treat her allergies.
"She looks like a totally different dog now," Dan said. "People ask, 'What happened to your old dog? The bald one?' This is the old dog! She's just that much improved."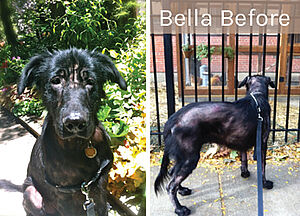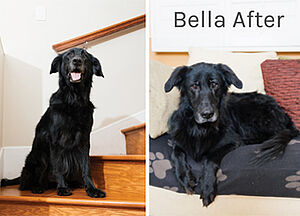 FINDING ANSWERS - The Mauros, along with their veterinary dermatologist, experimented with different diets and a scratch test to determine the source of Bella's allergies.
---
Read this story on page 20 of the Spring/Summer 2017 issue of PAWS Chicago magazine.