My Very First Foster
Apr 20, 2023
After being hit by a car and having his leg amputated, cat Lobo needed a safe place to heal and regain his balance. Thankfully, first-time foster Rose Jones was there to help Lobo prepare for a new home.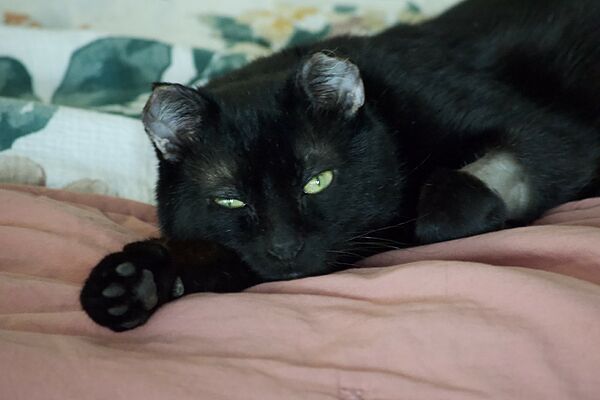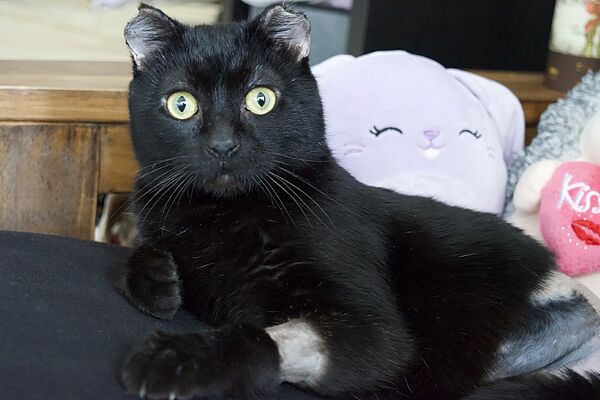 Rose Jones had known for a long time that she wanted to be a foster. However, she had one obstacle to overcome first.
"I actually used to be super allergic to cats and dogs, and I've been going through immunotherapy treatment to subside those allergies. Pretty much the second I knew I could be around animals I knew I wanted to help as many animals as I could," said Rose.
Rose didn't waste any time and signed up to be a PAWS Chicago foster right way.
"When I went to PAWS to pick up a foster, I didn't know who I was going to get. But the day before, I was talking to a friend about how much I love tripods—three-legged animals. When I got to meet with the ladies at the front desk, they said they had a three-legged black cat, and I said, 'I'll take him,' instantly."
Sometimes, you just know. But it wasn't all smooth sailing. "The first night I had him, I opened the crate, and he walked out, looked at me, and darted for under the couch."
However, that didn't last long.
"About four hours later, he decided he was ready to say hi, and he jumped up onto the couch and instantly went for my lap. I almost started crying at how much he just wanted to be loved."
Soon, Lobo learned the lay of the land.
"As he settled in, he would rotate between three spots—next to my pillow, with my Squishmallows, or in my gym bag under my bed. He was so good at asking for attention when he wanted it and staying away when he wanted to be alone."
Though he was recovering from surgery, having three legs didn't slow Lobo down a bit.
"Some of his favorite activities were biting my toes and playing with a toy with bells and feathers that he LOVED. He also loved climbing on things. One night at 2 a.m., I woke up to him meowing incessantly. I turned on a light and looked up and he had made his way up on my IKEA shelves and couldn't get down. It was hilarious."
Rose learned a lot from this first foster experience.
"I learned to give him time and let him tell me what he wants. It's all about paying attention the first few days super carefully to figure out the routine that will make them the happiest and get ready to go to their forever home!"
Thanks to Rose's help, today Lobo is enjoying life as a happily adopted cat. Interested in becoming a foster like Rose?