My Bonnie
Jun 07, 2023
Clever, compact, and full of cuddles, Bonnie waited patiently for her person at our Adoption Center. Then, Augustus Rushford walked through the doors.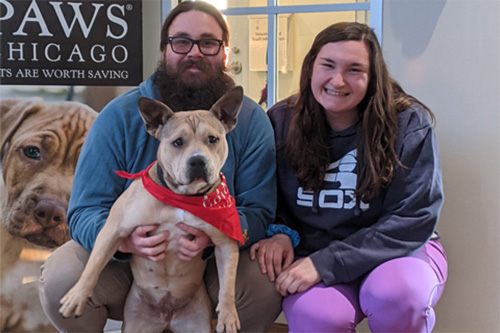 One look into Bonnie's hopeful eyes, and it's hard not to fall in love. However, this sweet pup needed a lot of help finding her person. Thankfully, the PAWS Chicago community had her back every step of the way.
PAWS featured Bonnie on our website as well as on Facebook and Instagram. She also appeared on flyers on Piece Pizza boxes across Chicago and was highlighted as the PAWS Pet of the Week on CBS local news.
In preparation for adoption, Bonnie spent lots of time with our training team, learning how to walk on a leash and obey simple commands, like sit and stay. She blossomed with guidance, encouragement, and yummy treats.
Once Bonnie was ready and the word was out, all we needed was patience and the right person—enter Augustus Rushford.
"I saw Bonnie on PAWS' website in a video and watched it over and over until we decided it was time to go meet her the same day," said Augustus.
Bonnie and Augustus' connection was immediate.
"When we met her, she just wanted to be petted and loved, and that's all we wanted to give her."
Once adopted, it didn't take long for Bonnie to find her groove.
"My girlfriend, Hanah, works from home, so Bonnie loves to relax next to her all day. Bonnie gets at least three to four walks per day, which I know she's enjoying. She also likes sitting on our porch, people-watching, and playing at the dog beach."
Today, thanks to your support, Bonnie has the most beautiful life, and it's clear she's exactly where she belongs.
"She's so sweet and loves to bully her way into our bed where she lays on her back and snores all night."
Ready to find your own Bonnie?