Howard Draft & The Agency He Leads are Giving Pets a Voice. Literally.
by Alexis Fasseas | Oct 31, 2010
A lifelong animal lover and longtime supporter of PAWS Chicago, Howard Draft set out to change the tragic reality facing the millions of homeless pets who are killed each year in the United States. After being elected to the board of directors of the Advertising Council in 2007, he proposed creating a campaign benefiting animals to Peggy Conlon, the organization's president and CEO. Two years later, the campaign has launched and will reach millions of consumers with one simple message: Adopt. But this theme is a gross simplification of the ingenuity, thoroughness and passion underlying the creation of The Shelter Pet Project.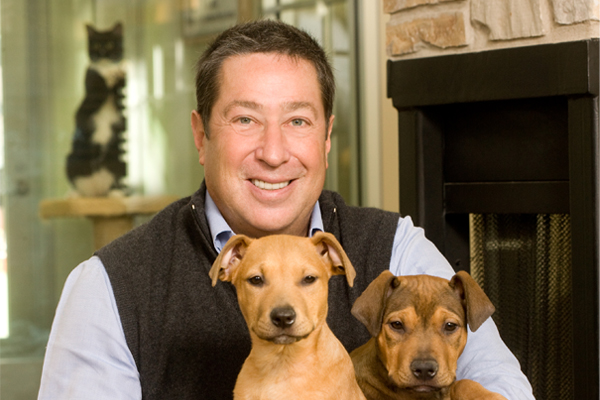 The Beginning
It all began with Max. "He made me a dog lover for life," Howard said as he reflects on the first of several dogs in his life.
On the job, Howard has spearheaded multiple marketing revolutions. One of the founders of the agency called Kobs & Brady in 1978 (which would later become known simply as "Draft"), Howard led its transformation from a small direct marketing agency into a global marketing communications powerhouse. Draftfcb, the result of the merger of Draft and Foote Cone Belding in 2006, was in keeping with his and his leadership team's vision for a new agency model. Now one of the world's premier marketing services networks, Draftfcb has more than 9,500 employees spanning 96 markets worldwide.
Animals have interlaced themselves in his work and home life. In one of his first apartments in Chicago, Howard had a stray cat living under the porch, which eventually delivered five kittens. One of the kittens, Bob, became the third feline in the Draft household, joining Boots and Maggie. "Over the next several weeks I would bring the remaining kittens to the office and 'gift' them one by one to colleagues," Howard recalled. "Looking back, I suppose that's the first time I got involved in the pet rescue movement, and it felt good."
Helping Chicago's No Kill Vision
In the founding years of PAWS Chicago, Draft recalls walking his family dog Abby and coming across an Angels with Tails adoption event on Armitage Avenue. "At the corner of Armitage and Halsted, I met PAWS Chicago founder Paula Fasseas…I told her that I believed in her cause and if I could help further to let me know." Little did he know how much help he would provide.
Howard was one of the first supporters to help PAWS Chicago open the Lurie Spay/Neuter Clinic in 2000 by donating money for the Dog Holding Room. He also became one of the early supporters of the Adoption & Humane Center, naming The Abby Draft Dog Home – one of two dog adoption suites in the Center with a window overlooking Clybourn Avenue. But his efforts did not stop there. His team at Draftfcb created a campaign to launch the opening of the Adoption Center with dogs and cats throwing their own revolution, demanding No Kill, No Cages; No Lack of Belly Rubs; and begging for Life, Liberty, and the Pursuit of a Lap to Curl up on.
"I have long believed in PAWS' mission to make Chicago a No Kill city," said Howard. "With such great progress being made here, I started to dream about a national effort to make the USA a No Kill country."
A National Platform for Homeless Pets
Howard's dream of a national campaign required support. "With such an audacious goal I knew we'd need to get an organization like the Ad Council involved," he said. The Ad Council created the category of public service advertising, launching with War Bonds, Rosie the Riveter and "Loose Lips Sink Ships" in 1942. Their longest running and most recognizable creation is Smokey Bear and the "Only you can prevent forest fires" slogan, also a Draftfcb creation, now celebrating its 65th birthday.
Howard knew the Ad Council's expertise would be a perfect partner to help take the message of homeless pets to the public, however he did not know that the organization had never done a pro bono campaign that wasn't directly focused on people. Peggy Conlon, an animal lover, loved the idea and was eager to help bring the Ad Council into a new dimension. "Since nothing like it had ever been done before, it required a special Board vote," said Howard. "Happily for pet lovers and pets alike, the Board voted enthusiastically to move ahead with the program." Of course, Howard requested that Draftfcb take on the pro bono initiative.
By September 2008, the Ad Council had aligned with partners Maddie's Fund, a family foundation dedicated to building a No Kill nation by providing grants to communities of shelters and to shelter medicine programs, and the Humane Society of the United States.
Draftfcb wanted to determine how people decide to adopt pets rather than buy them, which required defining their decision process and purchase path. They began by utilizing seven different research techniques, which showed that many people don't perceive getting a pet from neighbors as any different from adopting a pet from a shelter. Draftfcb saw that the campaign needed to brand adoption to differentiate it from other pet channels in the consumer's mind. Additionally, there were many misconceptions about shelters and pets in shelters. The team saw that it was their job to dispel these misconceptions before arriving at the overall strategy: "There's nothing wrong with shelter pets."
Armed with a strategic plan, it was time to bring in the creative team. Draftfcb held a Creative Rumble at PAWS Chicago's Adoption Center. "It was great because the creatives got a chance to meet shelter cats and dogs. We had creatives who had only been to breeders and had stereotypes about shelters, so they were able to see there were so many great pets," said Joi Freeman, a Draftfcb account executive assigned to the campaign.
Indeed, PAWS Chicago residents became the faces of the print campaign, which features pets looking into mirrors, examining the flaws that they perceive led to their abandonment at a shelter. On the television side, "Ditched" portrays a scruffy terrier dumped on the side of the road and "White Collar" shows a Boston Terrier's owner arrested for insider trading. In each spot, the dogs communicate that they are shelter-bound through no fault of their own. There are also animated spots to complement comic strips that tell the story of how pets often end up in shelters because of people issues like divorce, marriage and death.
Howard is proud of the agency's work, calling the campaign "among the best work we've ever done." He is clearly impassioned by the cause and his experience with PAWS Chicago. "I have been most impressed by the absolute commitment and determination of countless volunteers to stop killing defenseless animals whose only 'crime' was being born," said Howard. "That's why I'm so proud of our Shelter Pet campaign. It makes the point that it's not a dog's or cat's fault if they're abandoned. The responsibility rests with people."
The people who are motivated by these ads to rescue their next dog or cat from a shelter will help enact much needed change for homeless pets.
When asked about how animals have impacted his life, Howard stated: "Animals offer an undying, unwavering love. They're your buddies. They make you laugh, they are cantankerous little souls and they always make you feel needed. I am one of the millions of people who realize that, with animals, you always get more than you give."
The fact is that Howard Draft – and Draftfcb – are giving back in a big way.
To see the innovative and motivating television PSAs, visit www.theshelterpetproject.org.