Fostering PAWS' tiniest paws
Apr 13, 2021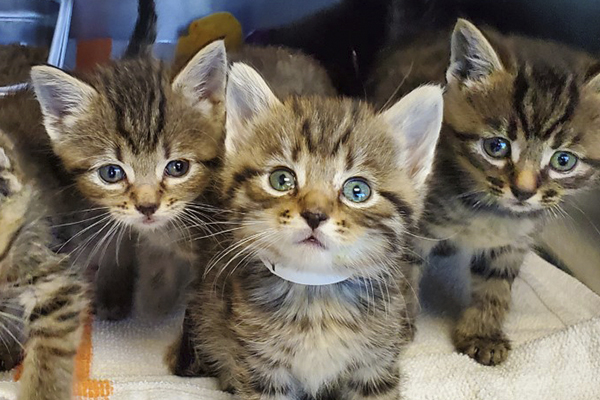 Happy spring! New life is being breathed into bare tree branches and mama cats and dogs have started giving birth to their litters. Thanks to our team of PAWS Chicago fosters, we're ready to welcome them to PAWS!
This period of "new life" is called kitten season in the animal rescue world. But don't let the name fool you – there are plenty of puppies getting ready to join the world, too. As a leading No Kill animal rescue, PAWS rescues hundreds of newborn kittens and puppies every year from our own city and rescue partners in southern states, where a warmer climate means a longer kitten season.
Oftentimes, these litters will arrive with their mom to cover their nursing needs. But occasionally, they'll come to PAWS alone and in need of a neonate orphan foster to bottle feed them, help them eliminate, and, quite literally, foster their growth.
Neonate Orphan and Pregnant/Nursing Mom Fosters
Neonate refers to a newborn puppy or kitten in the very first stage of their life. Their eyes are likely still shut, they still rely on their mother's milk to survive, and they need stimulation to eliminate (use the bathroom).
That's where PAWS fosters like Michele Herdzina and Lora Martyn come in! As longtime Neonate Orphan and Pregnant/Nursing Mom Fosters, they regularly step up to provide around-the-clock bottle feeding, help eliminating, temperature control, and health checks for neonate orphan fosters and assist in ensuring the growth of newborn kittens and puppies who arrive at PAWS with their mother.
For the past five years, Michele and Lora have fostered PAWS Chicago's newborn residents. Michele, a NICU nurse, prefers to be a kitten and cat foster. When it comes to puppies, Lora's always ready to help. Even as you're reading this, they're helping foster two litters in need – Tracy and her kittens and Oreo and her puppies!
As Michele puts it, Neonate Orphan and Pregnant/Nursing Mom fosters put in all the hard work for one very important purpose: helping these tiny babies survive. "I help a lot of short-term bottle babies," she said, "getting them from bottle babies to self-feed stage."
How YOU Can Help
An influx of new kittens and puppies means a higher need for fosters ready to help our littlest rescues. If you're interested in fostering but overwhelmed by the idea of caring for newborn animals, the PAWS foster team and seasoned pros like Lora and Michele are always ready to share advice and aid when extra help is needed.
Lora said she knows how intimidating around-the-clock care can seem to new neonate fosters, "but it's only for a few weeks. So don't get distressed about that. Mostly, we the experienced fosters are here to guide, support and help."
If you've ever considered fostering young puppies, kittens, or mamas and their litters, sign up at bit.ly/PAWSFoster and know you have an entire support system to help.
Due to the existing overpopulation of cats in many Chicago communities, you may stumble upon a litter of newly born kittens in your own backyard. If you do find kittens and you're wondering what to do, look no further! We have the resources you need to help ensure they're properly cared for. And don't forget – one of the most effective ways to limit the number of unwanted litters in Chicago is by making sure your own cat is spayed or neutered.