David the Dog Whisperer
Aug 16, 2021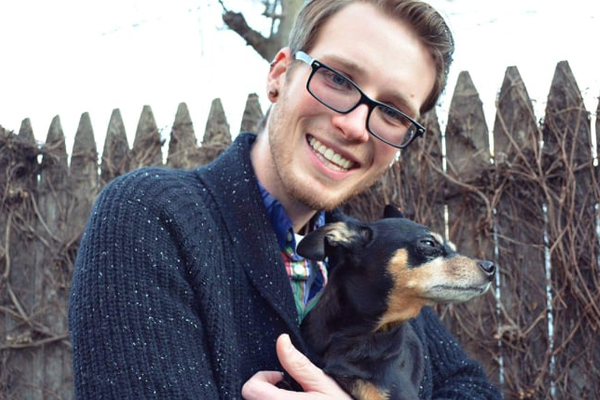 David Williams isn't your average foster parent. He goes above and beyond, taking in hospice (or as David calls them, "fospice") dogs who require the most attention, including multiple medications and/or treatments every day, plus a heck of a lot of love.
"My partner and I ended up adopting the second ever dog we fostered and knew we couldn't be trusted with the decision to return future fosters. We discovered that by fostering hospice dogs, you need never make that decision yourself—needy dogs get the love they deserve, and we are spared the hemming-and-hawing of whether to give them back. Every dog breaks your heart once, but knowing that One Bad Day may happen soon doesn't lessen the good days before it, and that's the trick, really: focusing on the stretch of good days," David explained.
David began fostering for PAWS back in 2013. Since then, he's fostered well over 20 dogs in desperate need of a loving person and a comfortable home. Right now, David is caring for three extraordinary dogs: Lilah, Lil Bit and Wade.
Lilah is a poodle mix with a mop of fluffy, white curls. She's almost 11 years old and has cataracts, seven extracted teeth, kidney disease and hypertension. David has taken such good care of her, she was recently cleared for adoption!
Lil Bit has transitional cell carcinoma, which is a cancer of the bladder, along with a host of other problems. Wade, or "Mr. Bubbles" to his friends, has stage 4 kidney disease as well as heartworm. Right now, David's job is to keep them as comfortable and happy as possible and he's doing just that.
"Hospice dogs tend to want one of three things: to wander endlessly and aimlessly, a big dang pile of blankets, or cheeseburgers. Whichever leads to less barking is what we go with. Then, you just let them do whatever ridiculous things make them happy, even if they look incredibly stupid," David said.
In addition to being a huge boon to ailing animals, David has been an amazing partner to PAWS.
"Fosters like David make our lifesaving mission possible while allowing us to provide exceptional medical care to animals that may need lifelong support. Plus, he has been the absolute best foster to work with and he's truly the kindest human being," Assistant Director of Foster Programs Kelsey Smyth said.
Please join us in thanking David for all he's done for PAWS and to help homeless pets.