Billy Corgan's Siamese Dream
by Alexis Fasseas | Apr 30, 2014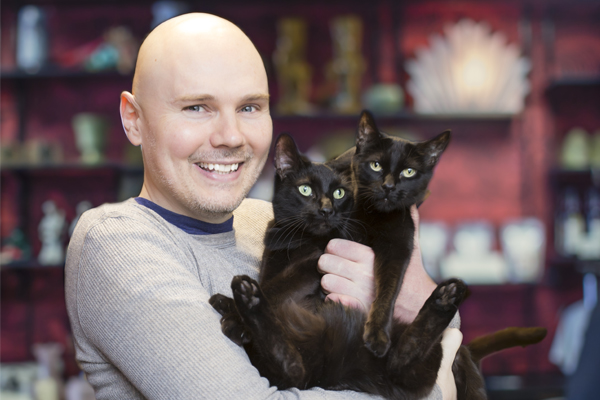 February 17, 2004 was a momentous day for Smashing Pumpkins fans. For the first time in the four years since the original band's last show, frontman and songwriter Billy Corgan broke the silence surrounding the band's breakup in a stream-of-consciousness styled blog post. A post that began with personal news:
You know that Beatles song 'I'm so tired, I haven't slept a wink....'? I'm having one of those weeks...I just got 2 new kittens, brothers and sisters, named miss sammi and mister thom cat...they are the best of friends, which is wonderful, but being young, they are into everything, including some things I didn't know you could get into...mister thom also seems to want to wake me up at 5am to say hello...
Mister Thom and Miss Sammi came from PAWS Chicago's original Adoption Center on Clark Street. In the ten years since Corgan adopted the duo, he has become a tremendous advocate for animals and PAWS Chicago's No Kill model, helping to raise significant funds and raise awareness about homeless pets through his celebrity.
In an interview following the cover shoot at his Madame ZuZu's teashop in Highland Park, Corgan said that music came naturally. "My father was a musician. I grew up around people playing in the basement and dressed up like space aliens in 1973, which wasn't as common as it is today." He continued, "I love the community of music. I suppose it's the family business. When I fell into it I thought, this is what I'm supposed to do. I never looked back."
In 1988, Corgan had returned to his hometown of Chicago after the breakup of his gothic rock band The Marked with the idea of forming a new band, The Smashing Pumpkins. He assembled a quartet, and with the rise of alternative rock, the Pumpkins' 1992 album, "Siamese Dream," debuted at numbers ten on the Billboard 200 chart. In 1995, the album "Mellon Collie and the Infinite Sadness" debuted at number one on the Billboard 200, was ultimately certified as ten times platinum and received seven Grammy Awards nominations, including Album of the Year, in 1997.
When asked about the variables that propelled the Pumpkins to such popularity, Corgan responded: "Insanity. An incredible grasp of darkness. Did I mention insanity?"
Did Corgan think that "darkness" was an essential ingredient? He responded, "When you're talking to a younger generation, you have to communicate about the frequency they're at. Every generation is different. In our 20's, speaking to 15 and 16 year olds in a time when the country was relatively stable, people could focus on internal issues and family issues. We were able to communicate on a level that made sense. Some people call it dark."
After the band's breakup in 2000, Corgan continued to play and release music. In 2007, Corgan and drummer Jimmy Chamberlin reunited and revived the Smashing Pumpkins. Since 2009, Corgan has been the lone original member of the band.
Though it is what he is best known for, music is not Corgan's only craft. He is an artistic Renaissance Man: a poet, publishing "Blinking with Fists," which debuted on the New York Times Best Seller list in 2004; an innovator as founder and Creative Director of Resistance Pro, an independent wrestling promotion company; an entrepreneur with his Highland Park Madame ZuZu's tea shop; and an author, working on a four-part book he plans to publish at the end of this year, which he calls a "spiritual memoire."
His current inspiration is derived from a spiritual and contemplative place, where it seems that the hard rock edge has softened. Corgan revealed that he went through self-reflective period that he said is "not uncommon for people past a certain age, be it 35 or 40" and he started thinking about "what is happiness?"
Corgan ruminated on his life to that point, which brought him full circle: "I had a lot of success and traveled the world. I had to find a new definition of happiness and in finding that definition, I found it was the same definition and thought, 'why didn't I fulfill those things when I had the world at my fingertips, figuratively?' It became about what's important to me: home, family, my animals, being a part of my community."
In connecting with these core values, his creativity was revitalized. "I've been able to draw from a new wellspring and suddenly things that seemed to have a lot of fatigue around them—the idea of getting up on stage and the idea of writing a new song—didn't seem so draining. It's like the same message from a different place."
In March of this year, Corgan announced the release of two Smashing Pumpkins albums in 2015. Since the announcement, Corgan has been making daily posts on the official Smashing Pumpkins website, where Sammi and Mr. Thom make frequent appearances.
Corgan was not always so enamored with felines. Reflecting on his childhood, Corgan, who lived with his father, said, "We always had dogs, we never had cats. My mom was a cat person and I used to marvel at her weirdness over her cats." After his mom passed away in 1996, he went to her house years later to go through her things. "I was dismayed that she had more pictures of cats than her children," he said. "But I inherited my mother's cat person thing."
When he was ready to bring cats to his home, he first went to the city pound. "I was just horrified," he recalls. "Just the feeling in the place. It felt more like I was walking into choosing which one was going to the gallows and which one wasn't. It didn't feel like a safe place to make a decision, because it's a big decision, taking on another life."
A friend encouraged him to continue his search at a No Kill shelter and directed him to PAWS Chicago, at the time a small rescue center. On his first visit, he didn't connect with any of the cats there, but the people were very helpful. "Instead of getting a guilt trip, the Adoption Counselor said she had just gotten in a litter of kittens," and he was invited to see them at her house. "Just that little bit of extra effort, her making it personal and not making the adoption process—I've been in places where you feel like you're doing something wrong if you don't leave with an animal," he said.
Corgan was appreciative that he wasn't pressured to make an immediate decision. "PAWS is not in some desperate move to just move animals through," he said. "As an organization they are determined to making sure the right animal goes with the right family because they want the animal to thrive and they want the family to feel really good about the decision."
After meeting the litter, Corgan adopted a brother and sister and his engineer adopted the other two brothers who were littermates. Sammi and Mr. Thom were expert models for the cover shoot. "They're rock 'n roll cats, used to different environments," Corgan beamed proudly. He contrasted this relationship with how he grew up. "I was raised in homes where animals were part of the family but subservient to other goals," he recalls. "In my home, the animals run the show. At best we're equals. But that's the way it should be. They have every right to live and be happy as much as I do."
In the years since the adoption, Corgan has deepened his involvement with PAWS Chicago. He visited the Lincoln Park Adoption Center with his father in 2009. At the 2012 Fur Ball, PAWS Chicago's annual black tie fundraiser at the Drake Hotel, he auctioned off tea and dessert with him for four people at Madame ZuZu's. On stage, Corgan sweetened the deal. "I'll even perform a few acoustic songs for the winner."
The item was sold for $30,000, with two other bidders offering to match the amount. Corgan hosted three groups at his teahouse and raised $90,000 for homeless animals at PAWS Chicago in one evening.
The next year, Corgan joined forces with Curtis Duffy of two-Michelinstarred restaurant Grace to offer six couples an intimate evening at the "Night of Folly." Duffy prepared an incomparable feast of six courses and Corgan curated the evening's entertainment. The event was hosted at a private home that is an architectural masterpiece in its own right. This evening raised a total of $65,000 for PAWS Chicago.
Corgan credits a prior relationship with a woman who was a big animal rights advocate for opening his eyes to animal welfare. "She gave me a perspective about animal rights issues that made it personal to me. I started getting involved with Sea Shepherd and started to see I could make a direct impact on those issues. There was something holistic about it for me to the extent that we pay lip service to things like ecology and culture, but you start to realize how you view your animals or how you view your garden or how you view your neighbors is all about what becomes symptomatic about what is wrong or right with your lives."
Like many animal lovers, Corgan feels that he has received more from his work than he has given: "It made my life better. I started looking at it like it made my life precious. It's picking and choosing what you choose to value." He continued, "So, if you value human life you should value animal life. If you value animal life then you should think very carefully about what you eat. It doesn't mean you have to do anything. It means you just have to be conscious about it. And then you find your life starts to improve. And that opens the gateway toward, as many pet owners know, a real relationship with your animals."
Through his advocacy and fundraising support, Corgan has made a tremendous impact on the lives of homeless pets, not to mention the silky sable felines who share his home. But Corgan is ever-modest with his contributions, expressing gratitude. "The blessing of having an animal is the healing and joy from a relationship that's based in unconditional love—or unrequited speaking of Sammi—that makes it all worth it."