A Right Place, Right Moment for Momo
Apr 20, 2023
With a broken leg, we knew Momo needed one surgery. We weren't expecting her to return to the operating room just a week later for a completely different reason.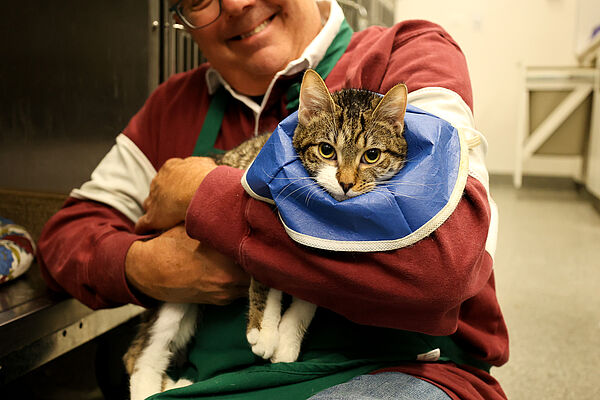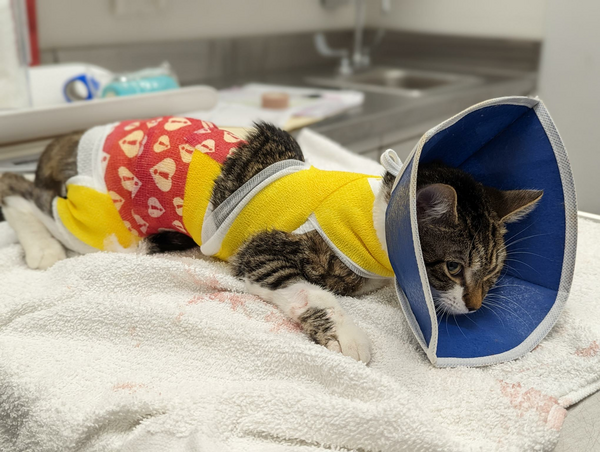 Momo was found injured by Chicago Animal Care and Control, and she had likely been hit by a car. Her femur was fractured, and she needed surgery to get back on her feet.
With advanced surgical suites fully equipped for specialized orthopedic surgeries, and in-house diagnostic capabilities like x-ray and ultrasound, PAWS Chicago is uniquely suited for cats like Momo. After bringing her to our Medical Center, we were able to provide her with the surgery she needed, a Femoral Head Ostectomy. Up until that point, Momo's recovery was moving along right on schedule. Then things got a little more complicated.
During the week following her surgery, our vets noticed a lump slowly growing in Momo's abdomen. If it weren't for daily checks by our medical staff, it probably wouldn't have been found for quite some time. But Momo was in the perfect place for immediate care.
Momo went back into surgery where our veterinarians found a section of damaged, infected tissue that was the source of the swelling. Likely a result of the initial impact of her injury, the affected tissue was becoming a slow-growing mass that could have caused big issues in the future.
Our team not only removed the mass but tested it in-house to make sure something more serious wasn't at play, like cancer. With all her tests coming back clean, all Momo had to worry about was resting and recuperating from her surgeries.
After a total of two months of recovery, Momo went to our Adoption Center with a clean bill of health...only to find a loving family the very same day!
Lifeline donors who give small monthly gifts are a huge reason we can provide immediate medical care for cats like Momo. See how you can save a pet's life for the same price as a Netflix subscription!