A mysterious case of Sniffles
Jan 24, 2023
This senior cat was suffering due to an undiagnosed medical condition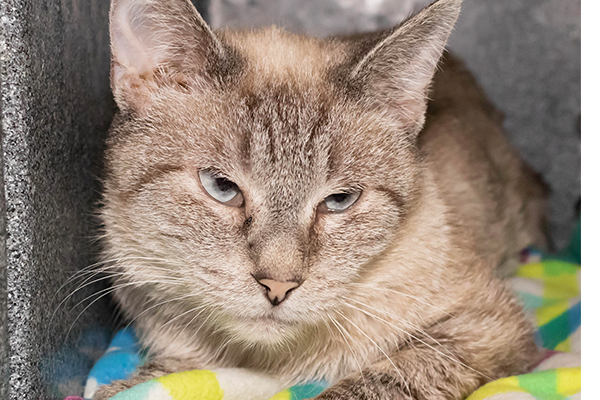 10-year-old Sniffles was struggling at a nearby shelter, and not just because she was a recently homeless senior.
This shy Siamese wasn't eating at all, and she needed our help to find out why. Once we got her here to PAWS Chicago, dental x-rays revealed the truth: 11 missing teeth, and 17 more severely rotted. Only 1 tooth was still in good condition.
It's no wonder she couldn't bear to take a bite! We regularly perform dental surgeries here at our Medical Center, but Sniffles was one of the more advanced cases we've ever seen. Even more good news, Sniffles was a completely different cat post-surgery!
Once she wasn't weighed down with such immense pain, the shy, scared cat we once knew had all but vanished! Enjoying a wet food diet and no longer hiding in cubbies and crates, the new and improved Sniffles would bound over to you whenever you entered the room, begging for pets and even belly rubs!
With all her charisma now on full display, it was no surprise when Sniffles got her red bandana before she could say, "achoo," and now she's enjoying life to the fullest with a new family!