A Furry Family Reunion
Jan 24, 2023
In 2021, PAWS foster Molly Crane took in a mama dog named Honeycomb and her litter of 10 (yes, 10!) puppies. Two years later, all eleven dogs are happily adopted and the whole family still keeps in touch with an annual reunion.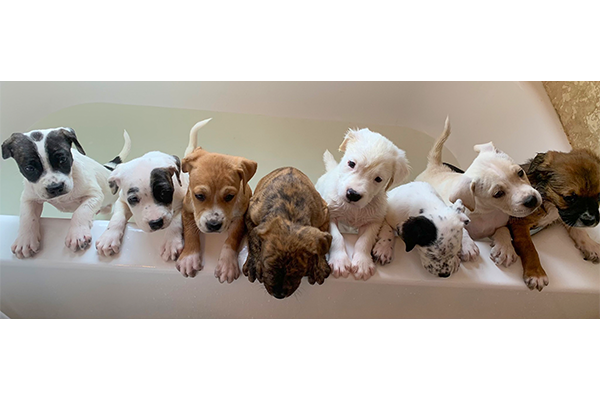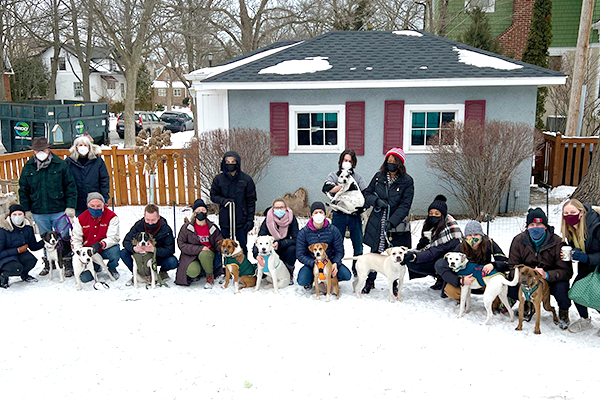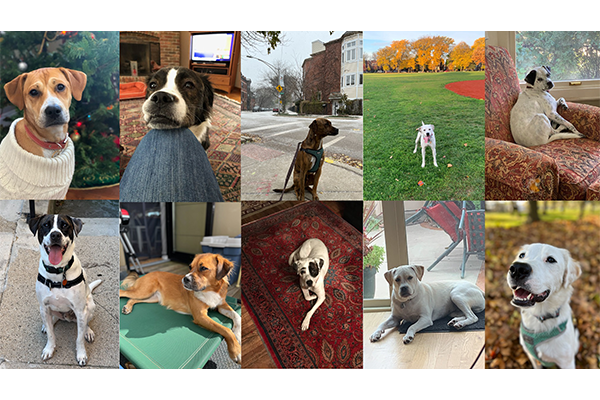 Molly Crane began fostering with PAWS Chicago when the COVID pandemic hit. At that time, Molly was attending law school remotely and her partner was working in the emergency room.
"We wanted to give back and bring my partner joy after working shifts in the hospital to help people survive. We started with one foster dog, then a mom cat and her ten kittens, then two puppies, and then Honeycomb and her ten puppies," said Molly.
While it was a lot of work, it was also totally worth it.
"Every moment brought hope, warmth, and laughter! I fell in love with every single animal we fostered—we would have all of them right now if there hadn't been such special forever families for each one."
To date, Molly has fostered 25 PAWS animals, and she adopted the 25th—a puppy named Herbert (now Buddy) from Honeycomb's litter.
"My partner was smitten with Herbert's silly, ornery, affectionate, and tender personality."
Today, the whole Honeycomb family still keeps in touch.
"We are so joyful that all of the siblings were adopted by friends of ours who happened to live in the Chicagoland area, so we decided to host a COVID-safe reunion when all the puppies turned one."
The first reunion was a wild success.
"The dogs were absolutely thrilled. They immediately started running, playing, and kissing each other. Every pup left with a goodie bag with their favorite things, and 'paw'rents had to find the bag based on each pup's first picture at a week old."
This year, Molly is finishing her last year of law school in Cambridge and couldn't bring everyone together physically, but that didn't stop the celebration. Adopters shared photos and videos of the puppies on their second birthday and even made a humorous discovery.
"All the dogs enjoy howling!"
Molly feels extremely honored to be a part of the PAWS foster community as a whole.
"When Honeycomb and her babies came to our home, PAWS fosters who had extra blankets, toys, and even potty pads jumped at the chance to help—and rejoiced along the way from week one to now, two years later."
Interested in becoming a foster like Molly?
"The PAWS foster community is incredibly strong, and is there to support you with tips, emotional solidarity, and even supplies. Every animal is so deserving of the love you have to give, and PAWS will be with you every step of the way."
But the animals aren't the only ones who benefit.
"Being a PAWS foster is a way to give, but the animals also bring immeasurable love into your lives as well. We are forever grateful to PAWS for bringing these marvelous creatures into our lives," said Molly.