Remembering Willie Thomas
Mar 31, 2021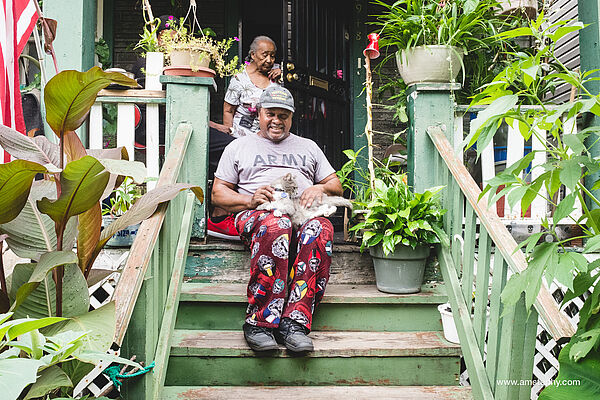 Willie Thomas was a beckon of light, hope and laughter in his Englewood neighborhood. Walking down the street, it was hard to miss his well-cared for urban "jungle," full of lush plants and flowers. If you looked a little closer, you'd see Green Eyes and White Girl, two of his many colony cats who have made his yard their home.
While reflecting about her younger brother, Barbara Thomas quickly shared that Willie was always an animal lover. Growing up in Alabama, their childhood was full of memories with animals around the house. Willie even earned the name "Willie Goat," a moniker reflecting his childhood growing up step in step with their family goat.
His love for animals continued into adulthood when he moved to Chicago after his service in the Army during the Vietnam War.
The first cat Willie fed as part of his colony was a mom and kitten in the early 2010s. He started earning their trust, socialized the kitten, and ultimately named her Green Eyes. Green Eyes and White Girl became two of Willie's friendliest cats in his colony, never straying too far from home.
PAWS Chicago began working with Willie as a colony caretaker in the very early days of the Community Outreach Program. Willie and Laurie Maxwell, PAWS Director of Community Outreach, got to know each other over the years and developed a friendship as they worked to help the pets in the neighborhood. Laurie remarked that Willie would call the cats by their names "and they would all come running to his yard, knowing it was time for dinner."
Willie always invited the PAWS team for a visit in his yard, to talk or have some water on scorching hot days. Over the years, Willie became an advocate for PAWS Chicago in the community, working with other pet owners to sign up more than 40 animals for spay/neuter and vaccination services with PAWS.
"Willie was generous to a T. He was always giving his neighbors and family his homemade food or gifting them with one of his famous walking sticks," Barbara said of her brother.
Willie loved working with his hands and used his talents to create walking sticks from a tree in Englewood for people he met. Laurie was one of the recipients of a walking stick, which she still has to this day. His walking sticks were such a symbol of his spirit, that his family, friends and loved ones brought their Willie walking sticks to his funeral when it was time to say good-bye.
Since his passing, Willie's work lives on as his neighbors stepped up to feed and take care of his cat colony. And Green Eyes and White Girl? They are now known as Belinda and Ellora, two PAWS Chicago cats. After they were admitted into the PAWS adoption program, Belinda was quickly adopted, and Ellora's foster family plans to make her a permanent part of their family soon!
Through his lifetime of caring and kind actions, Willie's memory will forever be cherished by his family, friends, and the PAWS Chicago community.