Volunteers of the Year 2016
PAWS Chicago salutes our volunteers who give their time and love to helping homeless cats and dogs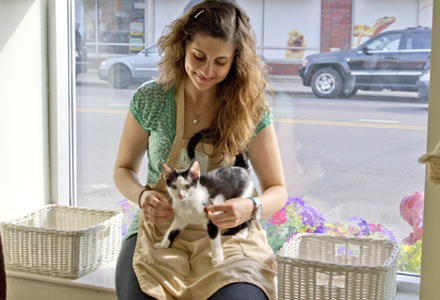 Volunteer All Stars
DAVID BAUMGARTNER
Do you ever wonder who works behind the scenes, answering emails and processing new volunteer applications? Many times, it's David Baumgartner, Lead Administrative Volunteer. David's talents help keep lines of communication open for incoming volunteers, and his attention to detail and customer-oriented focus ensure the best possible experience for all volunteers.
JENNIFER CATANIA
Jenn's infectious smile and boundless energy can make any volunteer task seem effortless! But the amount of energy she puts into her shifts as a regular Clinic volunteer is extraordinary. Jenn has been a pioneer volunteer at the Lurie Spay/Neuter Clinic, helping with afternoon cleaning, releases, recovery and operational support.
RANDY EGGE
Most days of the week, you'll find Randy Egge smiling as he walks through the halls of Dog Town. Randy gave an incredible 1,030 hours in 2016 as both a Level 3 volunteer and Adoption Counselor. His compassion for PAWS animals and his empathy in relating to adopters resulted in nearly 250 adoptions last year. When not physically at the Adoption Center, he's often hitting the pavement as an avid TEAM PAWS member and fundraiser.
SAM GOODMAN
Sam is always willing to go the extra mile – literally! As a regular transport driver, Sam helps to bring homeless dogs and cats from our Medical Center to one of our Adoption Centers so that they can find their new homes. In 2016, he took to the road more than 100 times for PAWS.
NANCY JENSEN
Nancy's love for animals radiates through the Medical Center whenever she is in the building. As a Medical Center Level 2 volunteer, Nancy provides enrichment and exercise for dogs and puppies who may be sick, in recovery, or healthy and awaiting their trip to the Adoption Center. In addition to her many hours logged, Nancy also volunteers as a transport driver, special events volunteer and as part of special out-of-state rescue missions.
LAURA KARAS
Every corporate and student group that volunteers at PAWS Chicago first meets group volunteer coordinator, Laura Karas. In 2016, Laura tapped into her excellent communications and incredible organization skills to introduce more than 1,000 volunteers to PAWS Chicago, coordinating more than 80 visiting groups.
CYD KUCK — NEW VOLUNTEER OF THE YEAR
In her short tenure, Cyd became a Medical Center Level 2 Volunteer, a Medical Center Lead, a transport driver and a New Volunteer Orientation trainer. Cyd truly shines when she is working with our newest volunteers—mentoring newcomers through their first shift in the Medical Center.
BRIAN LEE
Brian is an indispensable member of the PAWS Chicago team. Whatever the task, however great the responsibility, he is there to get the job done. He has trained countless Dog Town volunteers, mentored dozens of Adoption Counselors, provides reliable operational support for Angels with Tails, works with our most challenging animals, and provides leadership and support in countless other ways. Brian's attitude, energy and spirit inspire the entire organization. Thank you, Brian, for your tireless contributions to PAWS Chicago.
BETH PLOTNER
Something special happens when Beth Plotner is at the Adoption Desk. As an Adoption Counselor, Beth is often the face of PAWS Chicago for excited families about to take their new pet home. In fact, 372 dogs and cats are grateful to Beth for overseeing their adoptions in 2016.
LISA PRINTEN
Lisa began fostering with PAWS four years ago and she has been 100% dedicated to each and every one. Lisa has nursed multiple litters through a variety of illnesses including panleukopenia, one of the most terrible feline diseases. No matter how much care a family needs, she never quits and always sees them through to the end.
JOHN NIXON
John Nixon wears more hats at PAWS than will fit in his closet. He serves as Level 3 volunteer, as a trainer for both Level 1 and Level 2 volunteers, transport driver, Location Manager, mentor, Adoption Counselor and many more incredible volunteer roles. In 2016, he also began volunteering with our In-take department – assisting with assessments and helping with our Owner Relinquishment program.
DIANA ZAPATA
There is no job too big nor too small for Diana Zapata. From spending a full day in the Medical Center laundry room, ensuring every last piece of linen is clean, to developing and implementing a new volunteer training program called TLC, which trains dedicated volunteers to work with animals in isolation. Diana's compassion for animals and commitment to PAWS is remarkable.
SARAH ZINSMEISTER
You'll usually find Kitty City Level 2 Volunteer Sarah Zinsmeister at the Adoption Center on Saturday mornings, placing many of our harder-to-adopt felines into foster. Sarah is a skilled foster counselor, and in 2016, made over 60 cat foster matches. These successful foster experiences give PAWS more information about how our cats will fare in a home environment – which plays a huge role in setting up successful adoptions.