Trish Albertini
"It's an incredible experience, and I'm thrilled that I signed up! Each shift reminds me that I'm helping animals find a better life."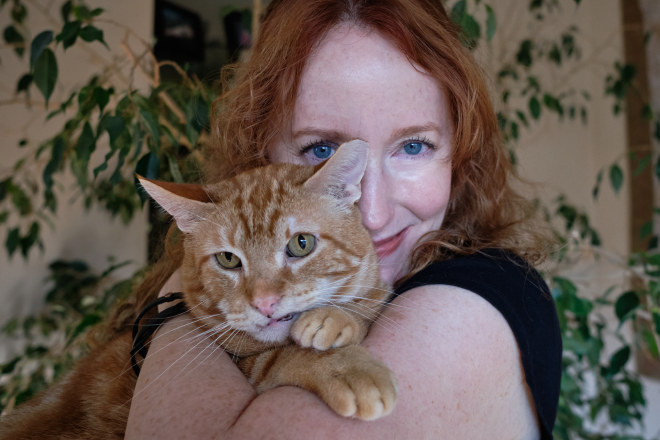 Volunteer Trish Albertini splits her time between the Medical Center and Lincoln Park Adoption Center (LPAC), which gives her the unique opportunity to follow animals from intake through adoption.
"One of my favorite experiences is to have met a cat at the Medical Center and then introduce that same cat to prospective adopters at LPAC. Having already met them, I have more to share about their personalities to potential adopters. Matching a family with their cat is such a fulfilling experience!" says Trish.
One of Trish's favorite memories is of helping a cat named Graves.
"Graves came with a condition that many of us hadn't heard of—FIP. This disease historically was fatal, but not for Graves! PAWS sought out a treatment and over many months, this adorable little kitty improved. I would see him periodically at the Medical Center when he came in for checkups, and he was like a new cat improving with each encounter!"
Once fully healed, Graves moved onto the Adoption Center, and Trish was there to help him find his family.
"I had just started my shift, and a couple came in asking to see Graves. Their last name was Graves and they thought it would be adorable to have a cat with that first name as well. I shared Graves' story with them, and they took Graves home that evening in a foster-to-adopt scenario. Within a couple days, they emailed the foster manager to say they wanted to move forward with the adoption!"
Just like with Graves, Trish loves that PAWS gives every animal a second chance.
"The No Kill mission means each animal, no matter what medical condition they might be facing, is given an opportunity to live out their lives. PAWS is supportive regardless of circumstances. I'm consistently inspired by how PAWS works to make every animal comfortable in their surroundings. The effort that goes into finding all of them a forever home is truly remarkable."
Interested in becoming a volunteer like Trish?
"Don't hesitate. If you have the time to give, this is a wonderful organization that values the work their volunteers do. There are also opportunities to advance within the volunteer ranks. These include events, workshops, training to spend time with even more animals and to help potential adopters move through the adoption process," says Trish.