Manu Puri
Manu has been volunteering with PAWS for 22 of our 25 years! Get an inside look at where we started and how we've made a difference from someone who's seen it all first-hand.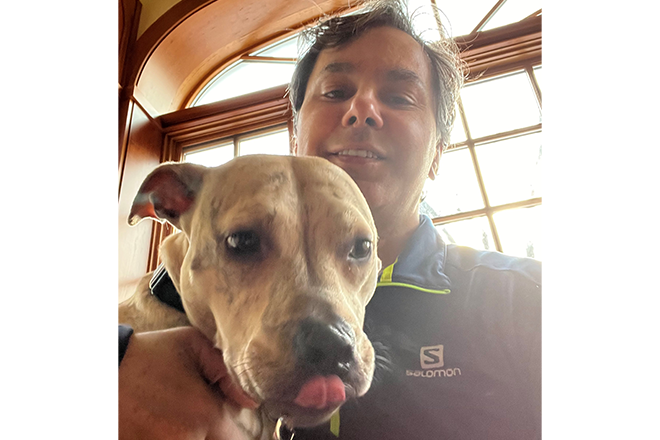 Q&A with Volunteer of the Month Manu Puri
How long have you been a volunteer at PAWS Chicago and what made you decide to volunteer?
It's been about 22 years now. When I started with PAWS, they were running a cat adoption center out of a storefront near Clark and Fullerton. Weekend adoption events were held at various locations, Petco stores and suburban malls mostly, where we would take both dogs and cats for adoptions. For those events, we would pick up the dogs from what is now the Medical Center, but at that time, it was basically a small office carved out of a big open warehouse space with some kennels for the dogs. I was working long hours at that time, so having a dog or cat myself was difficult. The cat adoption on Clark St. was near my house and it just seemed like a good opportunity to spend time with animals.
Which PAWS program(s) do you volunteer with? What's your favorite way to help at PAWS and why?
These days, I volunteer in Dog Town, help at the adoption desk occasionally, and help with special/off-site events. I've taken on several other roles and helped multiple departments over the years, including Adoption Center Location Manager, Adoption Counseling, Transport, Spay/Neuter Clinic, Beach Party/Fur Ball events, etc. I enjoy spending time with the dogs, so these days Dog Town is a good fit.
What's special about the PAWS No Kill mission to you/what inspires you to have a heart for animal welfare?
I think it's important that PAWS focuses on multiple angles when it comes to animal welfare. It isn't just about adoptions. I started during PAWS' infancy, only a few years after PAWS was founded, but when I started, the Spay and Neuter Clinic was already established, and community outreach and education were already important areas of focus to prevent animals from entering the system in the first place. Training, crisis help, food programs all help to keep animals in their homes and out of shelters.
What's your favorite story about your time at PAWS and why? If a single story doesn't stand out, which PAWS experience means the most to you and why?
So, the story of Yoda stands out first and foremost, and I think many volunteers have been around long enough to remember Yoda, but I don't think we have enough space here to talk about her. I will just let those who remember Yoda think about her one more time. She was a wonderful dog and lived a happy life.
There have been many other memorable events at PAWS. One that stands out is an Angel's with Tails Gold Coast event a few years ago. It was actually a really miserable day. The late spring event is often cold, especially if you are on the shady side of the street, but this day was not just cold, it was raining and windy all day. We moved our tables from the store's entryway to an alley, which didn't help much; the rain came in sideways. I remember my hands were so cold, I could barely hold onto the papers as I went over the animal files with adopters. At the end of the day, I went home in a terrible mood. Then, you get the email saying we found homes for 70 or 80 animals, and you realize everyone else was out there going through the same thing, including the adopters, and it truly makes it worth the effort.