Alicia Haruska
"As a child I would visit the local humane society, wanting to take home every dog for fear that the ones left there would be euthanized. As an adult, I now fully understand what it takes to create a No KiIl community. And to be a part of it, I feel like I'm that little kid again but with a positive outcome."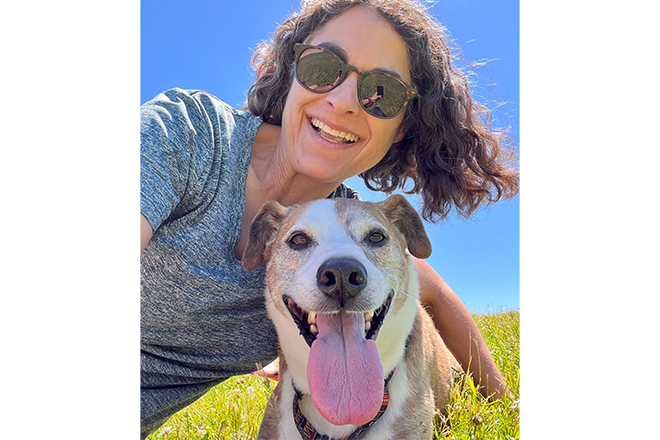 Alicia Haruska is a self-proclaimed "slightly dog-obsessed person," which made her a perfect fit for our volunteer program.
"PAWS offers a variety of volunteer opportunities so I can get my dog fix whenever I want (or need). I love that PAWS also offers training for growth," said Alicia.
Alicia mainly works at our Lincoln Park Adoption Center and has been trained as a Level 1 and Level 2 Dog Town volunteer. She's also taken on the role of Adoption Counselor.

"I love being a part of the whole adoption journey. I've had several instances where I have greeted a visitor, learned about them, found them a match, counseled them, and taken their adoption photo. A few days later, I contact them to hear how things are going."

One story in particular stands out in Alicia's mind.
"While volunteering at PAWS, I do get quite enamored with certain pups. One such pup was Summer. Ok, I'll admit, I was head over heels in love with this sweet 5-year-old, staffy mix who PAWS pulled—she was about to be euthanized at another shelter due to overcrowding."
Though Alicia was a little intimidated by Summer's appearance at first, her hesitance quickly faded.

"When I went into her room, that was it. She was the sweetest, gentlest, and most eager-to-please gal. I was even taking her to training classes where she was a perfect student. I was obsessed and constantly raving about her."
The day Summer was adopted was bittersweet.
"I wanted her adopted so badly. Finally, a young man met her and realized how special she was. I was fortunate to conduct her adoption counseling and was able to put the red bandana on her and send her home. I cried when she left...tears of joy, but also selfishly sad."
There are always more dogs in need of love and attention.
"Every day is different, and I really enjoy walking and getting to know each dog's personality. One of the things I love about PAWS is the freedom to meet so many different dogs."
But it's not all about the dogs. (Just mostly.)
"The staff and people are wonderful. I enjoy everyone I volunteer with and I meet so many people (both staff and volunteers) with such different backgrounds and experiences," said Alicia.
Interested in joining our team of volunteers and helping tons of amazing, furry friends?