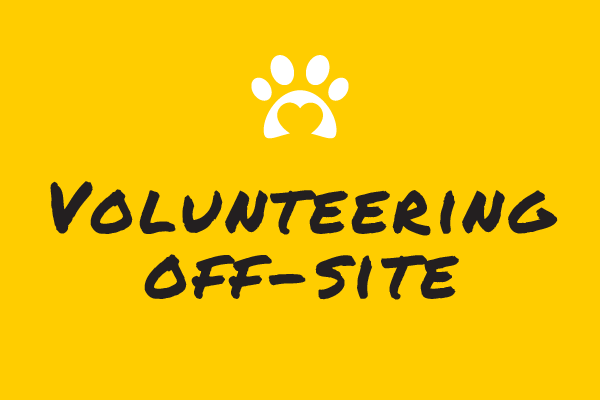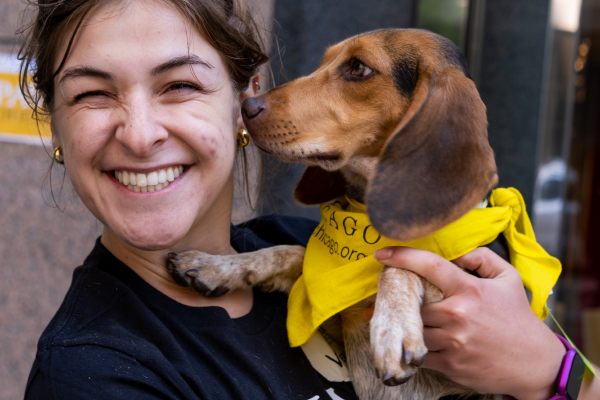 Supporting our events and spreading our message in the community.
Bringing Pet Homelessness to the Public Eye
Since our founding Angels with Tails Adoption Event in 1998, we have recognized that real transformation happens for homeless animals when we reach people where they are. This means having events and outreach in high-traffic areas where we can engage people directly and raise awareness.
---

Adoption Events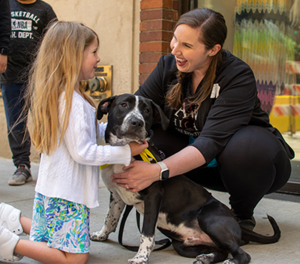 The offsite adoption events we hold all year long help our homeless pets reach a broader audience, meeting potential adopters in malls, pet stores or retail locations throughout the Chicagoland area. It's also an opportunity to talk to people about pet homelessness and how PAWS Chicago is working to build a No Kill community. Our Adoption Event Support Volunteers work with the animals during the events, talking to potential adopters and facilitating introductions. Our Adoption Counselors make sure adopters are prepared for welcoming a new pet into their homes and support the family through the transition.
Become a Dog Town Level 1 Volunteer or Kitty City Level 1 Volunteer to volunteer at our adoption events!

Humane Education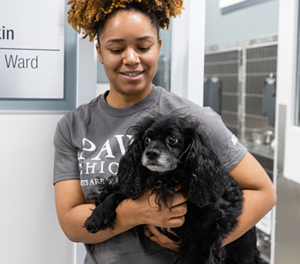 Help form the next generation of animal welfare advocates by working in the schools, making connections with students as a Humane Education Volunteer. We'll train you on our modular Humane Education curriculum and you can lead one-time presentations, adopt a classroom to visit more frequently throughout the year, or help facilitate our PACT After-School Program.

Community Outreach (PAWS for Life)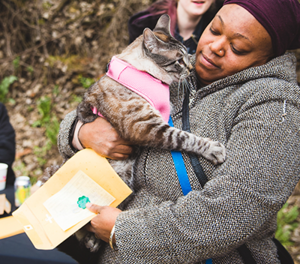 Working directly in under-served communities to help provide lifesaving resources for cats and dogs is one of the best ways to reduce pet overpopulation and keep pets out of shelters. You can make a difference for people and pets in need by volunteering for PAWS for Life as a:
Community Event Volunteer, supporting our large outreach events
Community Outreach Volunteer, joining our door-to-door canvassing initiatives and making personal connections talking people in underserved communities about the importance of spay/neuter and resources we can help with, like our Pet Food Bank
Operational Support Volunteer, helping make calls to clients and coordinate spay/neuter transports to ensure we are able to reach all interested pet parents with our spay/neuter services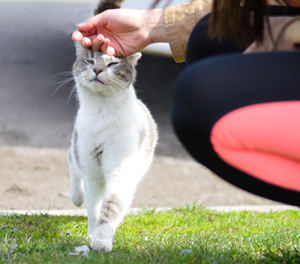 Working to help trap, spay/neuter and return feral and community cats is one of the most important ways to control cat overpopulation. We have a robust program working on the streets of Chicago and can use your help. See our Trap-Neuter-Return Volunteer Opportunities.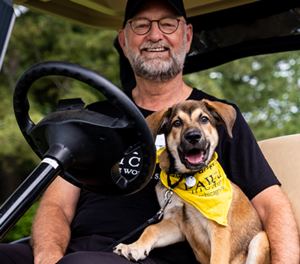 We hold fundraising events throughout the year to help raise awareness and funds to continue our work. Our Special Event Volunteers ensure these events run smoothly. That means greeting guests, helping with registration, selling raffle tickets and more.