Breed
Terrier, American Staffordshire
Orion's Story
Can you believe that face?? Orion is a big, sweet fella who came to PAWS as a puppy with his brother and sister, Oreo and Olga. While all three siblings were quickly adopted, Orion came back to PAWS a few years later after being picked up as a stray far from his Chicago home (thank you microchips!!!).
Since returning to PAWS, it's clear our sweet, gentle giant will need a family that will be sensitive to the unknown parts of his past.  Despite his brawny exterior, Orion is a shy guy these days, and will need someone who's willing to take it slow with him. We know he lived with another dog before, but stranger-dogs on the street make him a little nervous, too. Cats are especially menacing!
Look at that big, handsome face one more time and think, could you be Orion's second chance? Do you have a home where Orion could be your only pet? Do you have experience with dogs like Orion, who need a little extra TLC as they learn to trust the humans around them again? Do you have a heart the size of Orion's head, so that he can fill it with the love he's been waiting so patiently to give? If so, you might just be Orion's perfect match. Want to make sure you're right for each other before making it official? Consider fostering before you adopt! Fostering with the intent to adopt is a great way to see how an animal will fit in before making things official. While fostering, you'll have full support from PAWS for medical, behavioral, and food needs. To get started, apply to foster and reach out to acfoster@pawschicago.org.
Meet Orion
Orion can't wait to meet you!
If you're interested in adopting this pet, there are few steps you must complete before scheduling an appointment at our Lincoln Park Adoption Center:
1. Please start by taking our ComPETibility Quiz to make sure they're a good fit for your home. Your ComPETibility Score will help you compare your home to their needs!
2. After completing your ComPETibility Quiz, you will be emailed a link to complete your Adoption Application.
3. Finally, complete our Foster Pet Adoption Inquiry Form! Once this form is submitted, our Adoption Team will take a look at your adoption inquiry and, if they have next steps, reach out within a few days.
Please note that while we can't place holds on adoptable animals for your scheduled appointment, there are always plenty of homeless pets looking for a home! If you don't meet the perfect pet, please feel free to complete a new Foster Pet Adoption Inquiry Form.
Please note that due to current COVID restrictions, to meet or adopt an available animal, you will need to schedule an adoption appointment for animals located at our Lincoln Park Adoption Center or complete a Foster Pet Adoption Inquiry Form for animals in a foster home.
Want another way to spend time with our adoptable (or soon-to-be-adoptable) pets? Consider fostering.
Why Adopt?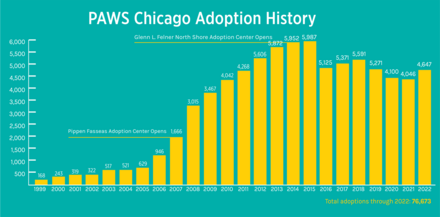 Adoption is one of the best ways to save a life. Only a few thousand more adoptions each year in Chicago, a city of millions of people, and we will be a No Kill community! You can make a real difference.
At PAWS Chicago, we keep working to grow our operations to save more homeless pets. It's how we've gone from saving a few dozen to 5,000 pets a year. But it is our adopters who make the real magic happen by bringing these loving pets home. Adopt a pet and spread the word!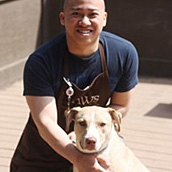 First Time Fostering? Learn More
There are many animals that need us today. Each foster family allow us to save more homeless pets by opening their home to a pet or litter in need of love and care for a few weeks. When we are able to send a pet or litter to foster, it frees up space in our Medical Center to bring in more pets in need.
Last year, our foster families took in 3,718 pets. Some needed a peaceful place to recover from illness or injury. Puppies and kittens just needed a bit of time in a home environment with good socialization so they could grow big enough to have their spay/neuter surgery before adoption. Other pets needed a calm and relaxing break from the stress of shelter life.
Consider joining them in lifesaving. Sign up to become a foster today.