Welcome Home, Schmoo
Jun 10, 2021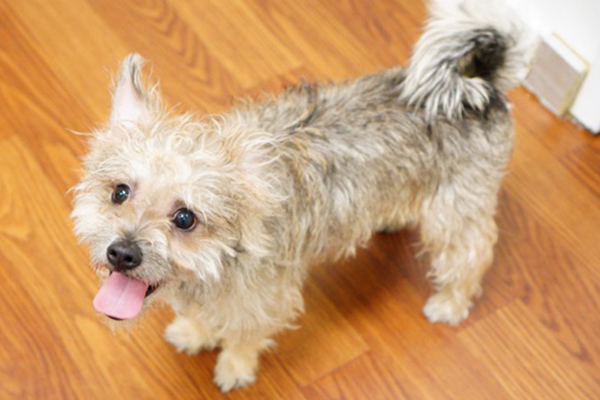 With his triangle ears and gruff eyebrows, three-year-old Schmoo (PAWS name Schmidt) could schmooze anyone with his picture. But getting to know him in person? That was a different story.
Now, those who know him have grown to love his goofy personality but when he'd arrived from an Arkansas transport partner, he was scared, shy, and unsure of the new world around him. He needed a family who could help him adjust to the hustle and bustle of city life while healing from a heartworm diagnosis. That family just happened to be Anna Zambelli's.
When Schmoo arrived at PAWS, Anna was already an approved PAWS foster. She'd given three other dogs a temporary home and regularly perused the PAWS Chicago Fosters Facebook group. When she scrolled through her Facebook feed one snowy February day, she spotted then-Schmidt. The post read, "I am looking for a foster transfer for sweet Schmidt. He is a shy but super sweet dog who loves receiving unlimited belly rubs once he warms up to you."
Anna was sold and immediately commented, "I work from home and would be interested!"
What followed was a two-month adventure of heartworm treatments, walks in the city, snuggles on the couch, snoozes on freshly washed laundry, and rides in the elevator (his favorite). It was the perfect storm for a foster fail and, on April 30, Anna tied a red bandana around Schmidt's neck and he officially became Schmoo.
Post-adoption, Anna said, "Schmoo is doing well! He loves figuring out his food puzzles, laying in the sun, being outdoors and snuggling his humans. He's a bit wary of strangers, but we're working on it! He loves clicker training. We're so happy to have him and feel so lucky we saw his previous foster's post looking for a transfer! He fits into our home perfectly."
Every day at PAWS, there are homeless cats and dogs hoping for a foster home and waiting to become someone's "Schmoo." Apply to be a foster parent today: pawschicago.org/foster.