Rescuing Gretchen and Her Kittens
May 11, 2021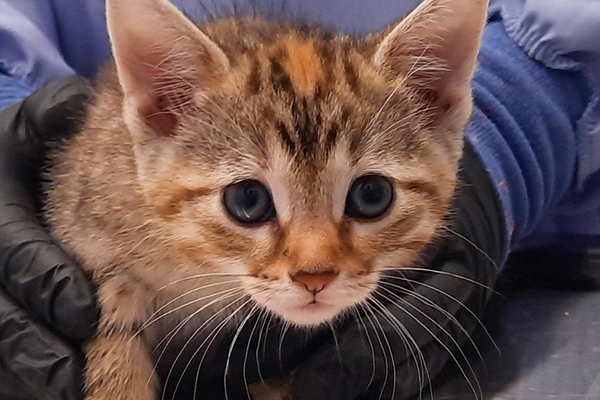 Gretchen and her six kittens, Guy, Gusto, Guthrie, Gypsum, Gretel, and Grenadine, are all tiny toes and adorable meows. Now that they're settled into their foster home, it's hard to believe that just a month ago, they were homeless strays.
Juana Saenz, a longtime cat colony caretaker and partner to the PAWS Chicago Community Outreach program, found Gretchen as a friendly stray long before she was pregnant. As a cat colony caretaker, Juana provides daily food, love, and a watchful eye over the cats in her neighborhood, like Gretchen. Community cats need help, and Juana's there to offer it.
Shortly after calling Juana's backyard "home," Gretchen became pregnant. Two months later, she gave birth to her babies! Juana brought them to the PAWS Englewood Outreach Center and, after a clean bill of health and no medical help needed, they officially joined the PAWS program. When they're big and old enough, all six kittens and mama Gretchen will receive a spay/neuter surgery, effectively ending one path in the cycle of unwanted litters and stray cats.
Animal lovers like Juana are vital to our No Kill mission. We'd say she's saving the lives of countless animals, but that's not entirely true: since partnering with PAWS, Juana's brought over 150 animals into our program for transport – that's almost 10% of PAWS's community cat population! And her dedication doesn't stop there. Juana's regularly rehoming neighborhood pets who can no longer stay with their families, fostering sick or injured animals who aren't quite ready for PAWS intake, and networking to grow her rescue community. As Laurie Maxwell, the Director of Community Outreach, said, people like Juana are "true animal heroes."
To learn more about community cat colonies and the important work of colony caretakers like Juana, click here.