Remembering Nancy Kinzie
Feb 01, 2021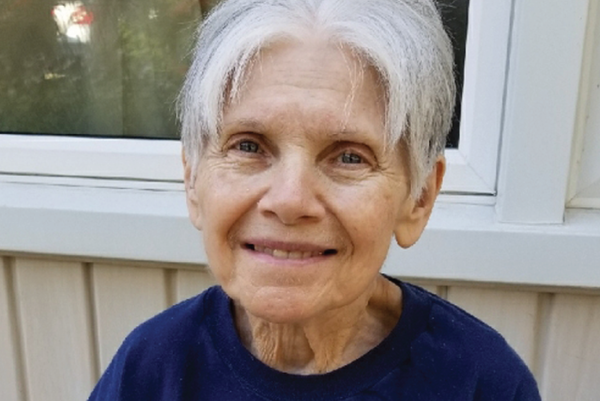 Today, we're remembering Nancy Kinzie, a dedicated animal lover who never turned her back to a cat or animal in need.
Nancy, a life-long resident of Back of the Yards, started coming to PAWS Chicago's Lurie Clinic in the mid-2000s for medical care for stray cats she would find. It was at the Clinic she met volunteer Cyndy Acox-Webb, who became a dear friend and fellow cat rescue-adventurer. Nancy and Cyndy teamed up to trap cats regularly all over the South and Southwest Sides of Chicago. Often before Spay Days events at PAWS, the pair would drive around all night together trapping feral cats to fill clinic appointments. Cyndy remembers these times with a smile and laugh. "Here is this fearless, tiny woman jumping around in alleys with traps and cat food like a ninja or ballerina! She wouldn't stop until she got the cat she was after," Cyndy said.
Although Nancy has been feeding and rescuing strays her whole life, it was with PAWS she became a registered colony caretaker. Our Community Cats team worked with her nearly weekly for four years to spay/neuter hundreds of cats and bring friendly cats and kittens into our adoption program. She fed dozens of cats at six different sites in her neighborhood daily, sometimes twice a day. She loved all animals, often picking up stray dogs, and fed birds and wildlife at her home. She regularly reached out to neighbors and took their pets to vet appointments if they couldn't get there themselves.
"She was always so dedicated to making sure the cats were taken care of," said Yasmine Pacheco, Senior Community Outreach Coordinator. "We all really enjoyed working with her."
In recent years, Nancy suffered injuries and underwent multiple surgeries. Her beloved family would help her feed the cats or drive her around to do so. Cyndy also regularly brought her cat food and drove her to her different colony sites in the neighborhood so she could feed her babies.
"She would pick herself up and keep on going, all for the animals. We had to drive her because otherwise she would push herself too much and hurt herself. Her focus was always the animals," Cyndy said.
Nancy's love for animals was palpable throughout her home and block. "When I pulled up to her home and saw all the wildlife and animals around her home, I always felt so peaceful. The animals loved her and you could feel it," Cyndy said.
While Nancy loved helping animals in need, she was also driven to service through the pride she felt for her community. She was a retired police officer and she loved to tell the story about how her first assignment was security detail for Mayor Daley's wife in Bridgeport.
Nancy's love for Chicago's cats continues even after her passing. When her son, Scott, contacted PAWS for help with Nancy's resident cat, Hogan, and a friendly feral she'd been caring for, Franny, we stepped in to lend a hand. We're honored to end her legacy with the happy adoptions of two of the cats she'd dedicated her life to.
Nancy was the embodiment of the No Kill movement: compassionate and selfless in the pursuit of animal welfare. We remember her fondly, as do the hundreds of animals she's helped.