Remembering Dr. Kurt Miller
Apr 13, 2021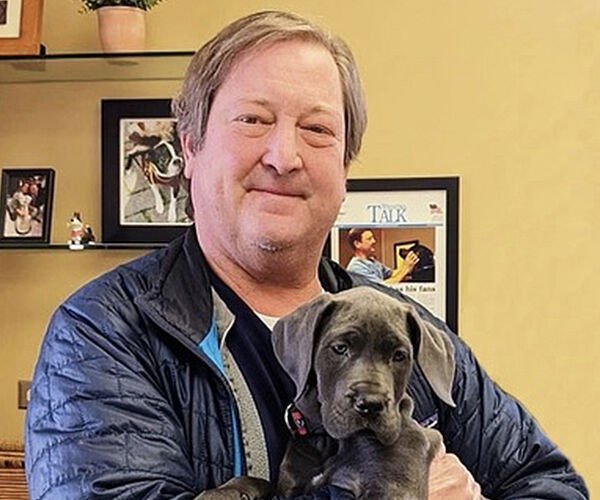 Dr. Kurt Miller lived a life marked by kindness, generosity, and compassion for people and pets alike.
He's fondly remembered as an animal lover in all that he did, especially among those in the PAWS Chicago community and his North Shore neighborhood, where he and his beloved wife Julie worked tirelessly as advocates for homeless and in-need animals. From a young age, Dr. Miller found a calling to lend a hand to those who most needed help and shortly after college, dedicated his life to veterinary work. In 2007, he opened Winnetka's first veterinary hospital and quickly became one of the most well-respected veterinarians in the North Shore.
The longstanding support of Dr. Miller and his family truly moved PAWS Chicago's No Kill movement forward. Both he and Julie chaired the 2011 PAWS Chicago Fur Ball alongside Nancy Timmers and, for almost 10 years, sat on the PAWS Chicago Development Board. They were staunch ambassadors for PAWS Chicago and the homeless animals rescued here, fostering sick or injured pets and even welcoming a PAWS-rescued cat named Anabella into their family.
Throughout his 10 years of service to PAWS Chicago, Dr. Miller's support stretched far beyond his involvement with fundraising and development – he regularly underwrote surgeries and medical care for the sick and injured animals rescued by PAWS, shared his veterinary knowledge as a contributor to the PAWS Chicago Magazine, sponsored numerous Angels with Tails Adoption Events and community engagement opportunities, and actively volunteered his time to expanding PAWS Chicago's life-saving work.
Dr. Miller's children, Nolen and Grace, inherited their parents' passion for animal welfare. In a heartfelt article published by Pioneer Local, it's stated that the whole Miller family contributed to the 9,100 volunteer hours worked in 2011. Together, Julie and Grace built a program that allowed Grace and her then-high school peers to support PAWS Chicago. Since then, Julie has served as the North Shore Development Chair on the PAWS Chicago Development Board and remains an active, dedicated member.
Despite Dr. Miller's passing, his legacy as a voice for cats and dogs in need doesn't end: as long as he's remembered, he'll inspire the same action for homeless or hurting animals. The PAWS Chicago community is honored to have been represented by such a caring, upstanding individual.
If you'd like to read more about Dr. Miller and his incredible life, his obituary can be found here.