Sarah Francek
"I decided to volunteer because I want to be a part of helping people find more peace in their lives through the love and companionship of a dog,"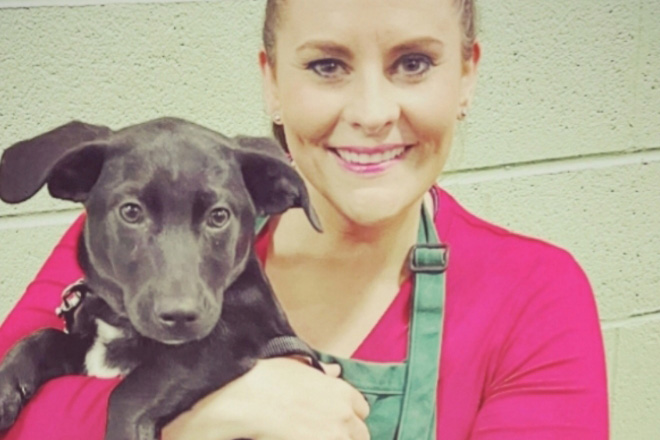 Sarah Francek began volunteering with PAWS in January 2021 at the height of the COVID pandemic.
"I decided to volunteer because I want to be a part of helping people find more peace in their lives through the love and companionship of a dog," said Sarah.
Though Sarah loves all animals, she has a very special place in her heart for dogs in particular.
"Dogs have a way of taking all your fears away and making you feel safe. They are in your corner during your darkest hours. This pandemic has been excruciating for many of us and dogs have a way of helping you heal through your life traumas. Bringing a dog into your home changes your life for the better in so many ways."
Sarah volunteers in Dog Town at the Lincoln Park Adoption Center, focusing her effort on animal care.
"Not only do all the animals need walks, food, cleaning, etc., but they need nurturing, love and support, especially those that have had a difficult past. I value time spent with those struggling to regain trust in humans and make it a top priority to provide additional empathy and compassion to them."
PAWS' No Kill mission and commitment to working with animals is extremely near and dear to Sarah's heart.
"There are few shelters out there that have the capacity, resources, or dedication that PAWS gives to the animals each and every day. The trainers are incredibly talented; they can transform even the most challenging dogs into obedient, trusting animals which dramatically increases their likelihood of adoption."
One such pup, named Hartley, sticks in Sarah's mind.
"He was one of our long-term dogs that required extra care because of his reactivity to other dogs and his need for behavior modification."
While Sarah tries her best not to have favorites with the dogs, Hartley quickly wiggled his way into her heart, and she always offered to clean his room just to sneak in extra cuddles with him.
"He would lean into me for pets and his eyes would twinkle with happiness. I remember when his foster parents decided they couldn't imagine their lives without him and decided to adopt him. Seeing his transformation and the love and excitement of his new parents makes helping with animal welfare all worth it!"
Interested in becoming a volunteer like Sarah?
"If you are looking for a culture that is genuine, loving, and filled with positivity, PAWS is the place for you. Animals have a way of reducing your stress and rejuvenating your soul. Volunteering will fill you up with peace and joy!"