Cristal Powell
Cristal and her husband started fostering with PAWS Chicago in 2017. "We took in a five-year-old dog who was recovering from a front leg amputation (shoutout to the amazing PAWS medical team) and quickly realized Roo belonged in our family. I had to earn it, but her love and friendship make every part of life exponentially better," said Cristal. After their epic foster fail (in the best way possible), Cristal wanted to help other dogs like Roo and started volunteering at our Lincoln Park Adoption Center in 2019. It's been a part of her life ever since.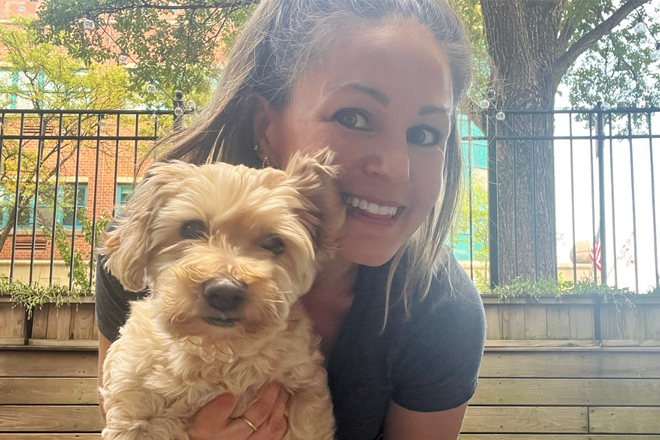 Cristal Powell spends most of her time as an L2 Dog Town volunteer at the Lincoln Park Adoption Center. This year, she also started adoption counseling and attending Tuesday night training classes with Marta Adamek, one of our Canine Behavior Trainer and Instructors. 
But even with all her experience, Cristal's favorite role is still a regular shift at the Adoption Center.

"I love knowing I can be the highlight of a dog's day, whether that means one-on-one snuggles in the dog suites, an extra walk, a new toy, or a few well-deserved treats. You see how much the dogs appreciate even the smallest of acts and it melts your heart," said Cristal.
Cristal always looks forward to her time volunteering.
"PAWS is my happy place! Normally I'm the weird dog person, but at PAWS, we're all equally obsessed. The team is committed to each and every animal in the program; it's an incredible mission to be a part of."
But Cristal gets as much, if not more, from volunteering as she gives.

"I was spending time with a particularly shy and fearful dog. He ended up falling asleep in my lap and I remember thinking I would have slept at PAWS if I could have. The next day, the most amazing family came in to meet and adopt him. Seeing him find his forever home was extra special."
If you're interested in becoming a volunteer like Cristal, here's what you should know.
"There's nothing more rewarding than earning the trust of a dog who's down on their luck. Also, there are a million big and little ways to get involved with the PAWS community. Find one that speaks to you, you won't regret it!"