Lyle's Story
Lyle's journey to PAWS Chicago started as a tiny puppy back in the Summer of 2021 all the way from Arkansas. Since he was a tiny puppy, Lyle has found the world a bit overwhelming. However, with just a little bit of cheese and patience, he has decided he wants a safe space with adults, a calm environment, and a consistent routine. Lyle's favorite activity is fetch - he would love to tell you how he wants you to throw the ball. After a big game of fetch (or a long walk), we would love to snuggle into you so tight there isn't even an inch of space!
Lyle has stolen the heart of PAWS Chicago's Staff because of his sweet nature and fun personality. He has absolutely nailed his puppy dog eyes and perky ears and can't wait to experience life with you.
Are you Lyle's forever family? You might be if you live in an adults-only home, live in a quiet area, and are willing to work on some training with him.
Meet Lyle
Lyle can't wait to meet you!
If you're interested in adopting this pet, there are few steps you must complete before scheduling an appointment at our Lincoln Park Adoption Center:
1.   Please start by taking our ComPETibility Quiz to make sure they're a good fit for your home. Your ComPETibility Score will help you compare your home to their needs!
2.   After completing your ComPETibility Quiz, you will be emailed a link to complete your Adoption Application.
3.   Finally, complete our Foster Pet Adoption Inquiry Form! Once this form is submitted, our Adoption Team will take a look at your adoption inquiry and, if they have next steps, reach out within a few days.
Please note that while we can't place holds on adoptable animals for your scheduled appointment, there are always plenty of homeless pets looking for a home! If you don't meet the perfect pet, please feel free to complete a new Foster Pet Adoption Inquiry Form.
Please note that due to current COVID restrictions, to meet or adopt an available animal, you will need to schedule an adoption appointment for animals located at our Lincoln Park Adoption Center or complete a Foster Pet Adoption Inquiry Form for animals in a foster home.
Want another way to spend time with our adoptable (or soon-to-be-adoptable) pets? Consider fostering.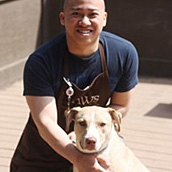 Adoption Process
All PAWS Chicago dogs and cats are spayed/neutered, microchipped, and have up-to-date shots based on age and arrival date.