Breed
Terrier, American Staffordshire
Dideridoo's Story
Meet Dideridoo! He's a one-of-a-kind dog with a unique name. This 5-year-old Terrier mix weighs 65 lbs. and is a total lovebug! Dideridoo is very friendly and well-liked by everyone he meets. He has a gentle demeanor with adults and children. Lounging is integral to Dideridoo's daily routine. He loves to curl up in a comfy bed or under a blanket. Dideridoo likes learning new tricks and knows many commands, his favorite is "paw". He's looking for a loving family that will appreciate his loyal nature and give him a pet-free home where he can flourish.
Meet Dideridoo
Dideridoo can't wait to meet you!
If you're interested in adopting this pet, there are few steps you must complete before scheduling an appointment at our Lincoln Park Adoption Center:
1.   Please start by taking our ComPETibility Quiz to make sure they're a good fit for your home. Your ComPETibility Score will help you compare your home to their needs!
2.   After completing your ComPETibility Quiz, you will be emailed a link to complete your Adoption Application.
3.   Finally, complete our Foster Pet Adoption Inquiry Form! Once this form is submitted, our Adoption Team will take a look at your adoption inquiry and, if they have next steps, reach out within a few days.
Please note that while we can't place holds on adoptable animals for your scheduled appointment, there are always plenty of homeless pets looking for a home! If you don't meet the perfect pet, please feel free to complete a new Foster Pet Adoption Inquiry Form.
Please note that due to current COVID restrictions, to meet or adopt an available animal, you will need to schedule an adoption appointment for animals located at our Lincoln Park Adoption Center or complete a Foster Pet Adoption Inquiry Form for animals in a foster home.
Want another way to spend time with our adoptable (or soon-to-be-adoptable) pets? Consider fostering.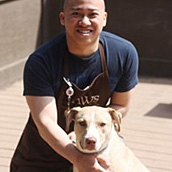 Adoption Process
All PAWS Chicago dogs and cats are spayed/neutered, microchipped, and have up-to-date shots based on age and arrival date.