Breed
Mixed Breed (Small)
Location
Lincoln Park Adoption Center
Moby's Story
Moby is a cute dog that would love to be the center of his adopter's world. Moby will do best as the only pet in your home, or with another calm dog who won't push him too far out of his comfort zone. No cats, please - Moby is not a fan of our feline friends. While Moby does enjoy company, he can be a little bashful at first. It might take a little time for this guy to show you the star that he is!
Does Moby sound like the match for you? He could be if you live in a low dog traffic area and are comfortable managing medication for his heart.
Meet Moby
Moby can't wait to meet you!
If you're interested in adopting this pet, there are few steps you must complete before scheduling an appointment at our Lincoln Park Adoption Center:
1. Please start by taking our ComPETibility Quiz to make sure they're a good fit for your home. Your ComPETibility Score will help you compare your home to their needs!
2. After completing your ComPETibility Quiz, you will be emailed a link to complete your Adoption Application.
3. Finally, schedule an appointment at our Lincoln Park Adoption Center! During your appointment, you'll be able to meet all currently-adoptable animals at our Lincoln Park Adoption Center and walk through the adoption process with our staff and volunteers.
Please note that while we can't place holds on adoptable animals for your scheduled appointment, there are always plenty of homeless pets looking for a home! If you don't meet the perfect pet during your first visit to the Adoption Center, please feel free to schedule another appointment.
Please note that due to current COVID restrictions, to meet or adopt an available animal, you will need to schedule an adoption appointment for animals located at our Lincoln Park Adoption Center or complete a Foster Pet Adoption Inquiry Form for animals in a foster home.
Want another way to spend time with our adoptable (or soon-to-be-adoptable) pets? Consider fostering.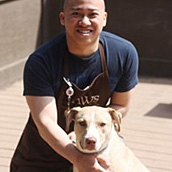 Adoption Process
All PAWS Chicago dogs and cats are spayed/neutered, microchipped, and have up-to-date shots based on age and arrival date.