Comeback
Brighton's Story
Adult cats are often considered "low maintenance" pets, but they do have their own specific needs. Cats love to channel their inner lion by alternating between long naps and the ferocious "hunting" of toy mice. Some prefer a nice lap to nap on and others prefer to be loved from a distance. Each one has a very special, unique personality and it is a joy to see their habits unfold in a new home. If you're looking to add more gentle cuddles and playtime to your life, an adult cat could be for you!
Meet Brighton
Join us in the 2021 Clear The Shelter Adoption Event!
For the Comeback Kitties (cats with the Comeback banner on their profile) in foster homes, adoption fees will be waived from Monday August 23rd through Sunday September 19th. Please fill out the Foster Pet Adoption Inquiry Form located on this profile for next steps for animals currently in foster homes.
If you're interested in adopting this pet, there are few steps you must complete before scheduling an appointment at our Lincoln Park Adoption Center:
1.   Please start by taking our ComPETibility Quiz to make sure they're a good fit for your home. Your ComPETibility Score will help you compare your home to their needs!
2.   After completing your ComPETibility Quiz, you will be emailed a link to complete your Adoption Application.
3.   Finally, complete our Foster Pet Adoption Inquiry Form! Once this form is submitted, our Adoption Team will take a look at your adoption inquiry and, if they have next steps, reach out within a few days.
Please note that while we can't place holds on adoptable animals for your scheduled appointment, there are always plenty of homeless pets looking for a home! If you don't meet the perfect pet, please feel free to complete a new Foster Pet Adoption Inquiry Form.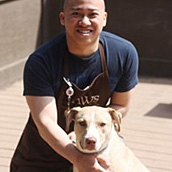 Adoption Process
All PAWS Chicago dogs and cats are spayed/neutered, microchipped, and have up-to-date shots based on age and arrival date.