Two Pups in an (Isolated) Pod
Jan 11, 2021
When Yale first came to PAWS, her face was swollen and unrecognizable with a severe case of puppy strangles. Two weeks later, her sister, Noemi, arrived suffering from the same condition.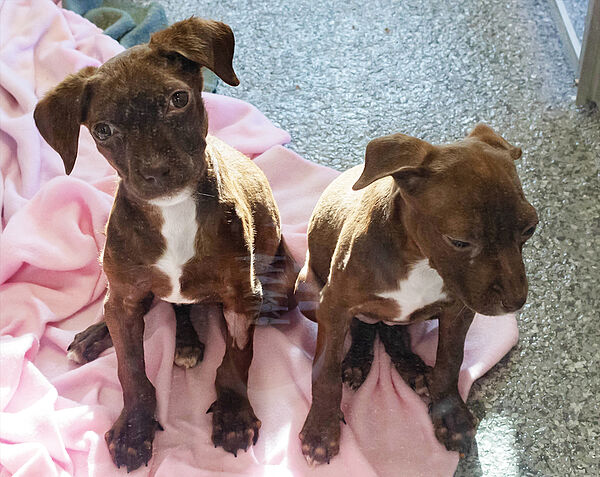 Yale and Noemi have faced many, many hurdles in their first five months of life. But, thanks to the state-of-the-art PAWS Chicago Medical Center, they're taking on their medical concerns step by step.
They both traveled almost 500 miles from Tennessee to PAWS at just a few months old, already homeless and in need. Yale arrived before Noemi and on her own. When we first met her, her face was unrecognizable and swollen with deep, painful sores. A check-up showed she suffered from a rare immune condition known as puppy strangles.
Unfortunately, puppy strangles has a possible hereditary component and when Noemi arrived two weeks later, it was evident that she, too, faced the same diagnosis as her sister. They were just two tiny puppies, in the kind of pain that no animal should ever have to face.
Because puppy strangles is an immune condition, treatment calls for immunosuppressants that weaken a puppy's defenses for fighting illnesses. Until recently, it might have been difficult to find the necessary isolation space they'd need to help. But, thanks to the new PAWS Medical Center, we have more isolation rooms than ever before for sick pups like Yale and Noemi to quarantine until they're healed!
Their road to a happy, healthy life is still unwinding: they're on the mend from puppy strangles, took on (and beat) respiratory infections, are working hard to kick pneumonia to the curb, and are now recovered from a bout of coccidia. Until they receive their clean bill of health, they'll be kept safe and sound in isolation.
Yale and Noemi are some of the strongest puppies we know, and the PAWS Medical Center is giving them, and animals just like them, everything they need to keep on fighting.