Treating Cases Others Can't
Nov 09, 2021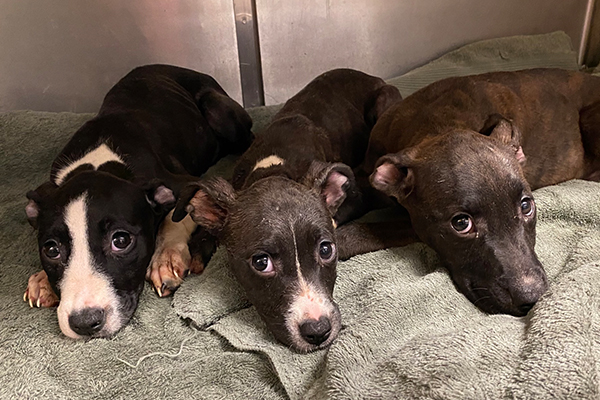 PAWS Chicago's recent Medical Center expansion makes it possible for us to treat cases most other shelters can't handle, including contagious diseases. Now outfitted with 90 isolation suites, triple what we had before, the Medical Center is able to house and care for hundreds of animals without risk of cross-infection.
But treatment of contagious illnesses goes beyond quarantine. PAWS is able to help pets suffering from pneumonia, providing services like oxygen therapy that allow animals to breathe with less effort. We're also able to help with critical cases of parvo and feline panleukopenia, which require even more specialized care.
Yuliana, Yvonne, and Yuri were 2-month-old puppies brought to Chicago Animal Care and Control (CACC) because they were ill. They were immediately diagnosed with parvo, and CACC called us to take over their treatment. As CACC's largest transfer partner, PAWS often takes on the toughest cases.
"We set up housing and isolation, and Shelter Medicine's team of veterinarians and technicians started aggressive therapy," said Dr. Emily Swiniarski, Chief Medical Officer at PAWS Chicago. "All three dogs were severely ill. One in particular almost didn't make it—Yvonne's disease was so advanced she experienced full-body swelling (edema) from a severe loss of protein. The puppies all had constant intravenous (IV) fluids, medications, feeding tubes and countless hours of veterinarian and technician care," said Dr. Emily.
In addition to full-time Chief Medical Officer Dr. Emily Swiniarski, the Medical Center's robust shelter medicine team includes a 35-member medical staff comprised of veterinarians, veterinary technicians, and assistants, as well as dozens of animal care specialists who provide the highest quality medical care.
We are happy to report that after two weeks of intense hospitalization, all three puppies survived, and parvovirus was not spread to any other dogs.
While it was a bumpy start for Yuliana, Yvonne, and Yuri, they were cleared for adoption and all went home with loving families within a few days of each other.
The Medical Center represents the next step in building a No Kill Chicago. From struggling to survive to celebrating their first holiday season in loving homes, these pups show how the Medical Center makes second chances come true.