The Legacy of Miss Kitty
by Patty Donmoyer | Nov 01, 2008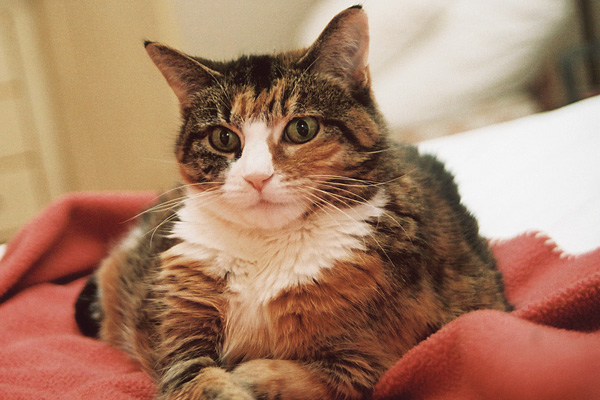 Judith Blazer never considered herself a "cat person". She'd never owned a cat, had only vague memories of cats from her childhood, and if she were told a cat would one day change her life, she would have laughed out loud. That is, until Miss Kitty introduced herself on a bitter March night in Northern Wisconsin. The story of Miss Kitty is not about an unusual cat and her owner—Miss Kitty was not a cat one possessed – but rather a story of a bond between two friends who found each other. Miss Kitty's journey lasted sixteen years, but the legacy of hope she leaves for homeless animals continues on at PAWS Chicago.
Judith describes that March night as especially cruel, with howling winds and rain so hard and raw the snow-covered ground refused to melt. Safely inside her home, Judith suddenly heard the unsettling cry of an animal in severe pain – a pitiful last cry for help. Then she heard the distinct sound of scratching at the door. Nervous, she slowly opened the door to find a kitten, most likely not more than four or five months old, thin as paper, and huddled in the doorway, shivering from cold and fright. She'd seen plenty of cats around — there were hundreds of wild cats that roamed the woods of Northern Wisconsin, but she'd never seen anything like this little heap of bones. The two locked eyes. "Remember that moment in the movie ET, where Drew Barrymore's character meets ET for the first time and they both shriek, scaring each other to death? That was this cat and I, both staring at each other. I knew without a doubt it needed my help. It was starving."
Judith followed her instincts and found a long, flat box, stuffed it with clean rags and placed it in the corner of the porch. Within seconds, the kitten crept along its emaciated belly into the warm box. She ran to find something the kitten could eat and rounded up a can of white tuna, turned the can over on a plate and placed it near the box. "The kitten did not stop eating the can of tuna, juice and all, until it was completely gone. The plate was clean. And the can of tuna was bigger than she was." The next morning the kitten was still there, so Judith upgraded the box to a larger one, "And that became 'Miss Kitty's' new home," she adds, naming her "temporary guest".
Judith arranged for someone with a farm nearby to take her as a "barn cat or mouser". But before taking her, the person insisted the cat be spayed. When the two arrived at the vet, Judith received some bad news. Miss Kitty was starving to death. Despite the food Judith had given her, Miss Kitty barely had the strength or nutritional sustenance to survive. "It was that moment, when Miss Kitty lay huddled on the examining table that I fell in love with her. I couldn't give her away," said Judith, dabbing tears, "and she became my best friend. The best friend I have ever had… of every living being I've ever known." Judith allowed the vet to do everything she could for the sick kitten, including treating her for the mites that poured from her ears.
When the vet released Miss Kitty, Judith had special cat doors installed for her so she could come and go as she pleased. But before long, Miss Kitty was soon enjoying the best of both worlds—the run of the wild and the luxury of Judith's comfortable home. Judith even had a special bed made in Paris for Miss Kitty – a tiny version of Judith's own bed, with pillows and a bedspread. Most importantly, Miss Kitty had the comfort of a good friend in Judith. The unlikely pair had developed their own unique and collective definition of what it meant to be best friends, through mutual respect and common ground.
"When you let an animal be itself, to be independent, it speaks to you in its own way. You communicate. Miss Kitty had things to tell me. She'd come home to me at night like a spouse or roommate and tell me about her day," said Judith.
Miss Kitty also had a flair for the dramatic, and often "entertained" at inopportune times. One such display occurred during a dinner party for sixteen. As guests settled in to eat, Miss Kitty sprung onto the giant table, strolling languidly in and out of the rows of candles that formed the centerpiece, flicking each flame with the tip of her tail. Sixteen pairs of astonished eyes watched as Miss Kitty finally halted between two guests, flopped onto her back, and swung her head over the side of the table. "That was Miss Kitty. She was theatrical!"
Miss Kitty's abilities also included her knack for accurately judging the character of those who entered Judith's life. Each day, as the caretaker of Judith's home set out to check the surrounding property Miss Kitty hid in one of the Cedar trees nearby and watched. As the caretaker neared the tree, Miss Kitty would drop like a ninja onto to his back, clinging hard to his shoulders and scaring the starch out of him. "And it wasn't just one tree," Judith insists, "Miss Kitty varied the trees she hid in so he'd never know where she'd drop from. The caretaker ended up being fired for cause within the year. She knew he was up to no good before I did, and she was giving me a message."
About this time, Judith hired a gardener, Laurie, who moved into an A-frame house Judith had built down a steep bluff near her home. Now in her teens, Miss Kitty began showing signs of arthritis, making it difficult for her to climb the bluff to Judith's home. So she began to spend the majority of her time with Laurie in the A-frame house, and Judith missed her best friend. "I was lonely without her," she admits.
When Laurie told her about a local vet who said the clinic had "three, very ugly cats that needed homes" Judith was infuriated, "how could a kitten be ugly?" Judith threw on a coat and drove to the clinic, where she found not three, but four cats in need of a loving home. Judith adopted all four. "I couldn't have taken them in if it weren't for Miss Kitty," said Judith, "She reminded me that these cats are all little souls that need love."Her beloved cats Ava, Magda and Halle live with her today. The fourth cat, Trixie, developed serious medical complications and died very young.
Judith and Laurie eventually moved to the Windy City. Laurie had become Miss Kitty's official "Nanny and Roommate". Miss Kitty was nearly 16-years-old and her failing eyesight and painful arthritis had forced her indoors full time, and she'd become much less mobile, so Laurie kept her at her home across the street from Judith. Shortly before Miss Kitty died, Laurie snapped a series of pictures of the orange tabby. As Judith describes those final pictures, tears well up again. Gone from the pictures was the aging, "voluptuous" pet with arthritis and a limp. The cat in the picture appeared as healthy and majestic as she did in her "glory years" in Northern Wisconsin – coat shining, bright-eyed and alert, her playfulness still evident. And that is the way Judith will remember her best friend forever.
Miss Kitty passed on this year, but her legacy continues at PAWS Chicago's Adoption and Humane Center in Lincoln Park. Judith Blazer dedicated a special room for senior cats where two pictures of Miss Kitty are displayed. The Senior Cat Room is located in a sunny area at the very front of the Center–the first room visitors see when they walk in. "I wanted people to know that the senior cats they see when they walk in are as cute and precious in old age as they were as kittens. Miss Kitty was the first thing I saw on the porch that rainy night, and look how she changed me."
In addition, Judith Blazer donated the Judith Blazer Community Room, which accommodates many of PAWS Chicago's educational training and advocacy events, is dedicated to Miss Kitty's memory. Judith Blazer continues to be a treasured friend of PAWS Chicago.