PAWS Chicago Heroes of the Year
by Alexis Fasseas | Apr 30, 2010
Ted & Tasha Lilly Team Up for Homeless Pets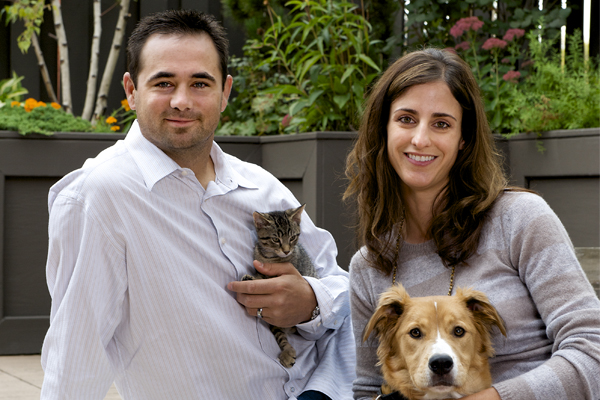 In the darkest hours you shine light. You have answered a voiceless plea for help, saving countless lives and, one by one, working toward the day when all will live.
You are an inspiration. You are hope. You are a hero.
Whether it's staring down the best bats in the National League or carefully navigating the underside of 1,000 pounds of horse, Ted and Tasha Lilly don't lack excitement professionally. This Chicago Cubs All-Star pitcher and UC-Davis trained veterinarian are at the top of their respective careers. But when off the field, or out of the stable, they take their passion to many causes, particularly children and animals. During their time in Chicago, they have become ambassadors for the cause of homeless pets and for PAWS Chicago.
Attending the All Paws on Deck beach party last summer was Ted and Tasha's first introduction to PAWS Chicago. Tasha began to volunteer her time performing spay/neuter surgeries at PAWS Chicago's Lurie Clinic. "I was looking for a shelter to get more involved with, either large or small animals or both," Tasha said. "When I toured the extensive operations and read about some of the results of PAWS Chicago's vision, I knew I was volunteering at a great place." Her volunteer work propelled the couple's involvement in helping Chicago's homeless pets.
Following the Great Roberto Clemente
At the end of last season, Ted received the honor of the Roberto Clemente award, bestowed upon the Major League Baseball player from each team who combines outstanding skills on the baseball field with devoted work in the community. Ted and Tasha selected PAWS Chicago as the charity beneficiary.
Roberto Clemente was a 12-time All-Star and Hall of Famer who died in 1972 while delivering supplies to earthquake victims. "I believe in what Roberto Clemente stood for and I think he affected more people with the work he did off the baseball field as opposed to the work on the field," said Ted. "I hope to be able to affect so many off the field—there is so much more than baseball."
Ted has certainly already made quite an impact off the field. In addition to his advocacy for homeless pets and support of PAWS Chicago, Ted has shown an extraordinary dedication to helping the Chicago community. He has worked closely with Cubs Care and Chicago Cubs designated charities that support youth sports, children with special needs, and victims of domestic violence. He has spent time visiting patients at Children's Memorial and Chicago Comer's Children's Hospital and children from the Make-a-Wish Foundation of Illinois and he has led initiatives to help disadvantaged kids.
"Because this award addresses a person's character and choices, I was extremely proud of my husband. He strives to lead by example and takes 100% of his mind, body and soul out to the mound every opportunity he is given," says Tasha. "He is a huge animal lover. We look forward to making many more contributions to the animals during our lives."
Life Outside Baseball
Ted and Tasha affectionately tease that they have been together since they were babies. Fourteen years ago, a blind date landed them at Denny's, seven years later they were married and just this March, they welcomed their son, Theodore IV. Both native Californians, they fondly remember growing up with dogs. "Since I was a kid, I have always wanted to be around animals," recalls Ted. "I remember our first dog, an Australian Shepard named Doggy." Tasha began her advocacy early: "Trapper was my Dad's hunting dog and I strongly disliked my father's hunting hobby. I smile thinking back that it was during our numerous negotiations that I started my own animal welfare campaign."
Today, Ted enjoys frequently exercising with his animals: "Running, hiking and camping are some of our regular activities." Tasha spends much of her time healing and caring for animals as a veterinarian and is now studying alternative therapies like acupuncture. "Now, I can positively impact the animals that gave so much to me as a youth," she says.
Continuing Life Saving Efforts
This year, Ted and Tasha have committed to raising awareness about homeless pets and PAWS Chicago's efforts to end the killing of thousands of cats and dogs each year. They will be donating $100 every time Ted strikes out a batter and $500 every time he wins a game. "PAWS Chicago is full of true animal advocates who continue to search for ways to improve and optimize their ability to help the animals," said Tasha. "That's something as an animal lover, you want to be supporting."
The couple is also launching a new PAWS Chicago adoption event this July. The All Star Adopt-a-Thon will take place following Major League Baseball's All-Star break, July 16-23. Ted, Tasha and some of their friends will donate their time and generate attention (and hopefully many adoptions) for the cause of homeless pets. In the future, Ted and Tasha would like to build an alternative therapies healing center and sanctuary for all animals, big and small.
Ted and Tasha have loved their time in Chicago and have truly integrated into the community. "This is the best city in the US with the greatest fans in all of sports," said Ted. I am more fortunate than I even know to have had the opportunity to play and live here." But it is Chicago that is fortunate to have Ted and Tasha!